Templeton Favors Options to Ride Asia's Best Stock Market Swings
(Bloomberg) -- Buying options to profit from Indian stock-price swings could prove rewarding for investors as the ongoing trade spat between China and the U.S. leads to a surge in volatility, according to Franklin Templeton.
"We will see much more volatility in the next 24 months due to retraction of excess liquidity by central banks, higher rates and inflation," Naganath Sundaresan, chief investment officer at Franklin Templeton Alternative Investments India Pvt., said in an interview in Mumbai. "Trade wars are not going away any time soon. They will be reflected in currency-market moves, increasing volatility."
India's benchmark S&P BSE Sensex has closed at new highs in 10 of the past 14 sessions, spurred by improving company earnings and on optimism that a national election by May will boost spending. Still, the ongoing tariff to-and-fro between China and the U.S. has brought back volatility, prompting some investors to step back from the domestic rally.
"The best investment strategy for such times is a long-short strategy that's flexible and dynamic," said Naganath, who will manage the Franklin India Long Short Equity AIF that opens for subscriptions this month. The fund will use options to benefit from price swings as well as the valuation spread between top and bottom performers in the benchmark, he said.
This year's record run in India's equity benchmark hasn't translated into big gains for all companies in the gauge, with only a handful of S&P BSE Sensex members keeping up with the record-setting rally. For instance, not a single stock on the gauge rallied to a 52-week high Monday, even as the Sensex closed at yet another peak.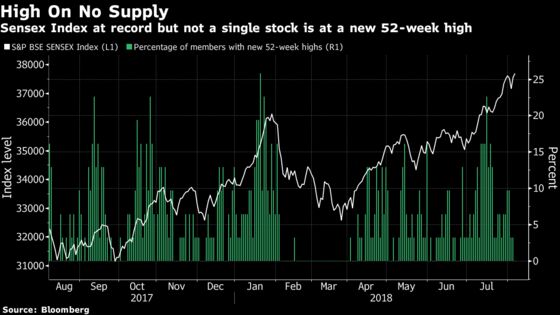 The trade spat and currency woes could trigger "an avalanche of ETF selling, which may pull down markets like the wave of ETF buying we saw in 2017," he said. "There could be further weakness in emerging market currencies in response to yuan depreciation, as this could contribute to market volatility."
Exchange-traded funds linked to Indian stocks have seen the region's largest withdrawals. The nation is ranked bottom in emerging markets with $1.7 billion in net outflows from ETFs of all kinds focused on the nation over 12 months, datacompiled by Bloomberg show.
Naganath recommends buying out-of-the-money put options to protect against potential declines and buying out-of-the-money calls to hedge against any significant gains.
"Timing the market is as important as time in the market," he said.