Ruble Dives the Most Since the Oil Crash in 2015
(Bloomberg) -- Some of Wall Street's biggest banks are warning investors to steer clear of Russian assets after the ruble's worst week since the 2015 oil crash amid mounting risks of crippling sanctions from the U.S.
Morgan Stanley turned bearish and UBS Group AG closed its recommendation to buy the Russian currency, with analysts at both banks saying in notes published on Thursday that the risks outweigh the reward for owning the ruble. Diana Amoa, a money manager at JPMorgan Asset Management, puts the likelihood of curbs on Russian sovereign debt at as high as 50 percent.
The ruble retreated more than 6 percent last week as contagion from the crisis in Turkey compounded tensions with the U.S. It dropped another 0.2 percent to 67.85 versus the dollar in Moscow on Monday.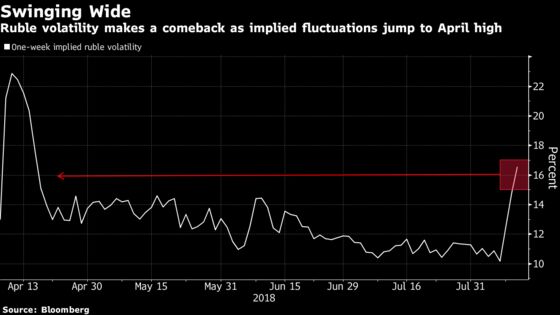 A fresh batch of sanctions introduced last week added to mounting concerns that the U.S. is about to start ratcheting up the severity of its restrictions against Russia. The worst-case scenario is a bill introduced in Washington last week that seeks penalties on banking transactions and new Russian sovereign debt as punishment for meddling in the 2016 presidential elections.
"Geopolitics is what keeps us all up," Amoa said in an interview with Bloomberg Television on Friday. "We've seen a lot of sanctions coming through ahead of the mid-term elections. I think there is an incentive to send a strong message that the U.S. will not allow interference in their democratic processes."
Amoa said she has reduced holdings of Russian assets because the tail risk from potential sanctions is "just too large." High foreign ownership of Russian sovereign debt means that sanctions would have a big impact on bond yields, she said. Foreigners held about 28 percent of the nation's outstanding ruble debt as of July 1, according to central bank data.
Both Republicans and Democrats in Congress have called for tough measures against Russia in the wake of last month's summit between President Donald Trump and his counterpart Vladimir Putin. Still, the outlook for passage of the bill submitted last week remains uncertain, particularly since the U.S. Treasury warned that sanctioning sovereign debt could cause instability in global markets.
The U.S. is more likely to apply sanctions selectively to avoid "collateral damage" than to pass the bill in full, according to Tilmann Kolb, an analyst at UBS. Pressure on Russia, however, is only likely to rise further in the near term, he said in a note.
In a sign that Russian officials are taking the threat of sanctions seriously, First Deputy Prime Minister Anton Siluanov said on state television over the weekend that the country will further cut holdings of American securities and reduce reliance on the dollar.
No decision can be taken on the bill until the House returns from summer recess next month, leaving a cloud of uncertainty over markets until then. Analysts at Morgan Stanley said that could leave the Russian Finance Ministry struggling to find enough buyers for the equivalent of $3 billion it can still borrow this year, of which $800 million would be swapped for sovereign bonds that are outstanding.
"The ruble remains highly sensitive to potential new legislation from the U.S.," Morgan Stanley analysts including Hans Redeker said in a research note. "We think that political risk will weigh on sentiment and increase the ruble risk premium as we head into September."