China Data to Track Size of Stimulus: World Economy Week Ahead
(Bloomberg) -- China's focus on cutting its debt has blurred lately as its leaders spend more time trying to insulate their economy from the trade war with the U.S. The week ahead will reveal just how much policy has swung toward boosting growth, reopening the argument about the risks of outsize leverage.
China's deleveraging campaign worked through two channels. First, raising money market borrowing costs to choke off funds for shadow banks. Second, tightening rules to punish lenders that relied too much on volatile short-term funding, or made too many loans to zombie firms.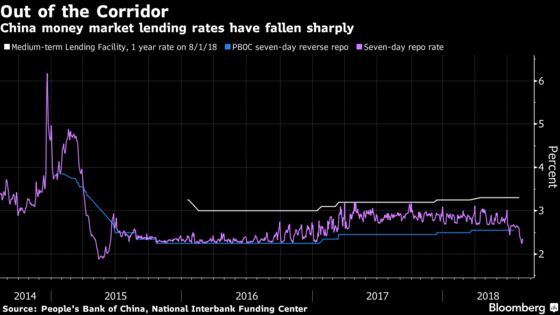 Now, both of those controls have been relaxed. Money market lending rates have fallen sharply, with the seven-day repo rate averaging 2.4 percent so far in August. That's down from 2.9 percent in April and only fractionally higher than when the deleveraging campaign began in May 2016. Prudential regulations have not been applied with the rigor they once were.
In the week ahead, a swathe of China data will provide a guide to the impact of the policy swing and possibly show how officials are moving early to try and head off a slump, not falling behind the curve.
Tuesday in Beijing brings the main activity indicators for July. The consensus forecast is for industrial output to tick up to 6.3 percent annual growth from 6 percent in June after robust exports. Wednesday is the last possible day for July credit data. Looking through the seasonal distortions which typically suggest a weak month, the question is whether the stock of credit is shifting onto an accelerating growth path.
The view of Bloomberg Economics is that with headwinds to expansion blowing from home and abroad, a tilt toward pro-growth policies carries more pluses than minuses. If emphasis shifts temporarily toward supporting growth that looks less like reckless stimulus, more like sensible counter-cyclical policy.
Read Bloomberg Economics' comprehensive previews of the week ahead for the U.S., Europe, Asia and Latin America. 
Turkey faces continued pressure from investors following a meltdown in the lira and the imposition of sanctions by the U.S. President Recep Tayyip Erdogan might hold rallies across the country having argued on Friday that he is battling an "economic war." Ziad Daoud, chief Middle East economist at Bloomberg Economics, wrote on Friday that it doesn't look like policy makers will act before the economy tumbles deeper into crisis.
The data docket will provide some key inputs into economic activity for the quarter, allowing forecasters to begin refining their estimates for gross domestic product. The Atlanta Federal Reserve's GDPNow stands at 4.3%, which is well above Bloomberg Economics' view that growth will moderate considerably to 2.8%. The main releases will be retail sales, industrial production and business inventories, all reported on Wednesday.
Fresh from the Bank of England's interest-rate hike, three consecutive days of data from inflation to wages and retail sales will allow policy makers to take the temperature of consumers during Britain's final summer in the European Union. Bloomberg Economics predicts the jobless rate edged a little lower to 4.1 percent in June and July inflation held at 2.4 percent.
Tuesday sees Germany's first attempt at measuring its expansion in the second quarter, providing a glimpse of the health of the euro zone's main motor as the European Central Bank prepares to ease back stimulus. The forecast of Bloomberg Economics is that the German economy grew 0.5 percent after 0.3 percent in the prior three months.
A pickup in India's inflation that spurred back-to-back rate hikes probably started to reverse in July. Monday's CPI data is likely to mark the beginning of an extended slowdown, which should keep the RBI on a long pause. We estimate the consumer price index rose 4.5 percent year on year in July, down from a 5 percent rise in June.
Officials from the International Monetary Fund start a nine-day mission to Buenos Aires to review Argentina's progress under the terms of a $50 billion stand-by agreement with the fund.
The Norges Bank meets Thursday, the last chance it has to lay the ground for a possible interest rate hike in September, which would be the first since 2011.
Tuesday looks set to confirm that the region's economic growth has peaked as Poland, the Czech Republic, Hungary, Romania, Slovakia and Bulgaria all release second-quarter data for gross domestic product.