Tech Startup Funds Plummet in China as Easy Money Dries Up
(Bloomberg) -- The funding deluge that fueled one of the world's fastest technology booms may be ebbing.
Capital raised by investment firms intended for seed and early funding -- before a startup seals its first round of financing -- plunged 53 percent to just 3.82 billion yuan ($559 million) in the first half, according to a survey of 36 funds by Chinese researcher Zero2IPO. More than 200 domestic venture capital firms saw money available for investment slide 44 percent, according to a second poll.
The declines suggest startup investment may begin to wane in the months ahead. China's clampdown on credit, coupled with a brewing global trade war and turbulence in markets, is hampering the venture industry's ability to amass new capital. Zero2IPO's numbers underscore a rapid fall in early-stage funding, a more severe hit to fledgling players rather than the well-established internet giants that still attract deep-pocketed backers such as Tencent Holdings Ltd. and Alibaba Group Holding Ltd. Overall investment -- encompassing later stages of funding for bigger startups -- rose 15 percent to about 117 billion yuan in 2018's first half.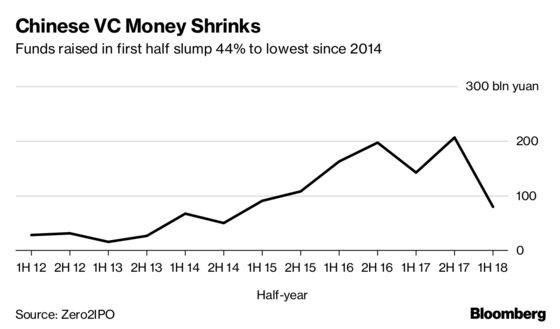 "Due to caution about financial risks and the overall macroeconomy, fundraising and exits have both not been doing well," Ma Rui, a Zero2IPO analyst, said in a report published this week. "Investment activity is expected to drop in the future, but for institutions that don't lack money, the next six months to one year is a prime time to make bargain investments."
China is heightening its scrutiny of debt by creating watch-lists and setting alarm-levels, underscoring a government imperative to maintain a stable market while curbing runaway growth in borrowing. The uncertainty has driven investors toward top-tier outfits such as the SoftBank Vision Fund or Sequoia Capital.
The total raised by 234 Chinese VC houses that Zero2IPO surveyed slid 44 percent in the six months ended June to 79.5 billion yuan, the lowest level since they amassed 50.5 billion yuan in the second half of 2014. Exits -- initial public offerings or an outright sale -- have similarly plummeted, suggesting valuations may be on the wane and discouraging deal-making. They fell 65 percent to 271, with about 40 percent done via IPOs.