Sanctions-Proofing Russia Helps Keep Economy Chugging Along
(Bloomberg) -- President Vladimir Putin's efforts to protect Russia after past rounds of U.S. sanctions are leaving the economy more insulated even as the threat of further penalties rattles markets this week.
Four years after the first major curbs were imposed over the Ukraine crisis, Russia's economy is growing about as fast as the central bank thinks it can, thanks to policies that have allowed the currency to trade freely and reduced reliance on foreign capital. But that very self-restraint means growth is hardly enough to achieve Putin's goals of dramatically raising living standards, with gross domestic product gaining less than forecast last quarter.
GDP added 1.8 percent last quarter from a year earlier, compared with an increase of 1.3 percent in the previous three months, the Federal Statistics Service said Friday, citing preliminary data. That missed the 1.9 percent median of forecasts in a Bloomberg survey.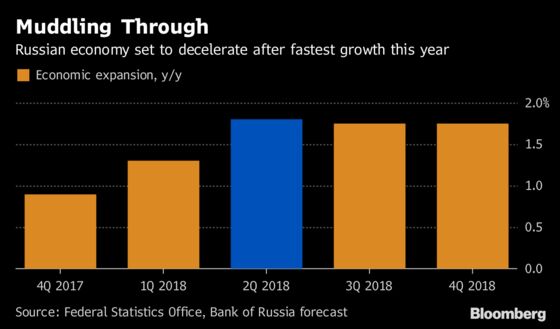 Facing a long-term drag as sanctions limit access to foreign technology and capital, Russia has countered by revamping its fiscal and monetary policy, channeling extra income into a sovereign wealth fund and unloading most of its holdings of U.S. Treasuries. While domestic assets have suffered as sanctions damage sentiment, Russia is less vulnerable to outflows of foreign capital than its embattled peers such as Turkey.
"Russia is more prepared," said Charles Robertson, global chief economist at Renaissance Capital. "They are trying to say that however bad it gets, the government isn't going to be borrowing much money, it will not be requiring financing from abroad."
The Bank of Russia said on Friday that it reduced planned foreign-exchange purchases in response to the ruble's volatility. The currency's weakened about 5 percent against the dollar in three days, the second-worst performer among its 24 emerging-market peers tracked by Bloomberg.
Congress is weighing draft legislation proposing more sanctions that target Russia's sovereign debt and its largest banks, as a response to alleged election meddling. The U.S. State Department also announced new restrictions to punish Putin's government for the nerve-agent attack on a former spy and his daughter in the U.K.
Russia will treat any measures that limit banking activity or the use of foreign currencies as an act of "economic war," Prime Minister Dmitry Medvedev warned in televised comments on Friday.
What Our Economists Say...

"The U.S. is likely to steer clear of the extreme scenarios — sweeping restrictions on trade and debt — but investors might not wait around to see what happens. The pressure on the ruble and rates could carry a sharper sting, squeezing household budgets and pushing up borrowing costs."

--Scott Johnson, economist, Bloomberg Economics.

For more, see his RUSSIA INSIGHT
Putin is looking to jumpstart the economy so that it outpaces global expansion, which the International Monetary Fund predicts at 3.9 percent this year and next. But without structural reforms, Russia's central bank has warned that medium-term GDP growth won't exceed a range of 1.5 percent to 2 percent.
A rally in oil is helping to dull the economic pain of the standoff with the U.S. What's more, government efforts to improve tax collection have brought down the price of crude Russia needs to balance its budget to a projected $61 a barrel this year from $67 in 2017, according to Alfa-Bank. With a higher value-added tax set to go into force in 2019, the lender estimates next year's break-even at about $50, which would be the lowest since 2008, making Russia least dependent on oil among major crude producers.
Still, the chokehold of sanctions is curtailing investment and Russian access to technology. Over the medium-term, Western restrictions could result in a cumulative output loss of 9 percent, according to the IMF. Analysis in July by the domestic rating company ACRA found that the penalties affected about a fifth of Russian GDP. Meanwhile, retaliatory measures by Russia pushed up prices and reduced personal incomes by two to three percentage points in 2014–2018, it said.
"If the new bill on sanctions is approved and the U.S toughens the measures, then in the nearest future we can forget about growth in the area of 2 percent," said Tatiana Orlova, an economist at Emerginomics in London.