Mandiri Lures Wealthy Indonesians With ETFs, Dollar Products
(Bloomberg) -- PT Bank Mandiri plans to chase wealthy Indonesians with more dollar-denominated products and exchange-traded funds as investors seek to shield their fortunes from a currency rout.
The largest Indonesian bank by assets is seeking central bank approval to offer some products through its Singapore branch and is working with Lombard Odier to extend offshore ETFs to local investors, Mandiri's President Director Kartika Wirjoatmodjo said in an interview in Jakarta on Wednesday.
Investors are scouting for safe-haven assets after a global emerging-market selloff triggered a rout in Indonesia's currency, stocks and bonds. Mandiri is seeking to manage a share of the wealth held by Indonesians overseas and locally because such services offer high fee income compared to conventional banking, where competition is intensifying.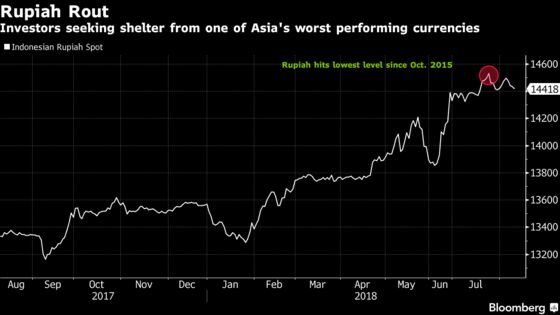 "With the dollar movement, people want to balance between rupiah and dollar assets, and the dollar asset choice in Indonesia is very limited," Wirjoatmodjo, 45, said. "People are looking for dollar assets with certain features like higher yields, higher risks or stable growth. We have a very limited product range."
Foreign investors have pulled a net $2.8 billion from Indonesian bonds and stocks this year as the rupiah weakened 6 percent against the dollar, among the worst performers in Asia, according to data compiled by Bloomberg.
Mandiri turned to Lombard Odier in April this year to develop products for wealthy clients in Indonesia and Singapore. The banks also plan to jointly offer investment advisory and second-generation succession planning services starting with Indonesia, according to Mandiri.
Wealthy Indonesians hold about 37 percent of their assets outside their country, with Singapore accounting for about 43 percent of the wealth and Hong Kong 22 percent, according to Capgemini SA's Asia-Pacific wealth report published in November. A tax amnesty last year unearthed some $360 billion in previously undisclosed assets in Indonesia and abroad -- the first step in a wider reform aimed at increasing the number of taxpayers and compliance.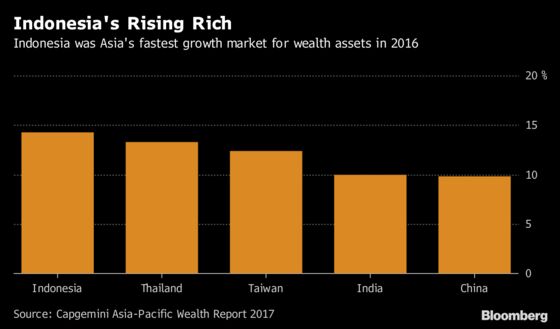 Mandiri is working to widen its product range for the wealthy as participants in the tax amnesty may move their wealth to other locations after a mandatory three-year lock-in period in local assets ends, Wirjoatmodjo said. An increasing number of wealthy Indonesians want their investment equally split between dollar and rupiah assets, making it difficult for local banks to meet such demand without partnerships with global private banks, he said.
Mandiri manages about 190 trillion rupiah ($13 billion) through its mutual fund and other wealth management units and the corpus is seen growing at about 10 to 15 percent annually, Wirjoatmodjo said. The minimum investment to sign up for Mandiri's private wealth management services is about 25 billion rupiah, he said.
Mandiri's shares advanced as much as 2.1 percent in Jakarta trading on Friday, trimming losses to 8 percent this year.