Ikea's Long Road to India: Timeline
(Bloomberg) -- It's taken Ikea, the world's biggest furniture retailer, more than 12 years to open a store in India. Here's a look back.
June 1, 2006: Ikea says it's studying the Indian market and would like to be there in five years if foreign ownership regulations change.
April 10, 2008: Ikea says it's interested in entering India, though local laws allowing only 51 percent foreign ownership are hampering the company's plans.
June 11, 2009: Ikea postpones plans to enter the market after talks with the Indian government on foreign direct investments fail.
Jan. 1, 2012: India's government abandons a rule against foreign single-brand retailers operating stores without a local partner, paving the way for global companies including Ikea.
June 22, 2012: India's commerce ministry says Ikea may invest 600 million euros (about $700 million) in the country.
Nov. 20, 2012: India's Foreign Investment Promotion Board approves Ikea's proposal to open stores in India.
May 21, 2016: Ikea announces purchase of land for a 400,000-square-foot store in Navi Mumbai, on the city's eastern outskirts, and plans to open 25 stores in India by 2025.
Sept. 13, 2016: Ikea says it's started construction of its first store in Hyderabad and is also looking for land in cities such as Delhi and Bangalore.
Dec. 7, 2016: Ikea says it expects to open a Hydrabad store toward the end of 2017.
May 18, 2017: Ikea predicts doubling its sourcing from India to 600 million euros by 2020 and says it will open its first Indian store, in Hyderabad, in early 2018; breaks ground on Mumbai site and says it will invest about 10 billion rupees ($146 million) in the country.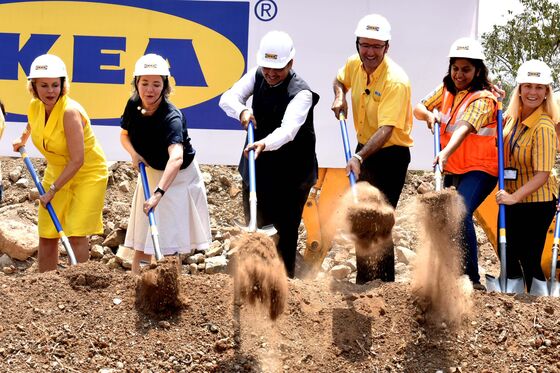 May 31, 2017: Ikea announces purchase of 14 acres of land in Bengaluru (formerly Bangalore) for a third store in India, which is anticipated to have 5 million visitors per year; it's also scouting for sites in Delhi, Chennai and Pune.
Sept. 1, 2017: Times of India reports Ikea will invest 8.1 billion rupees ($120 million) in its Bengaluru store.
Nov. 2, 2017: Ikea announces the purchase of 10 acres of land in Gurugram (formerly Gurgaon) in the National Capital Region outside Delhi from the Haryana Urban Development Authority, and plans to build a 400,000 square-foot store with parking for 1,000 cars and a restaurant seating 1,000 people.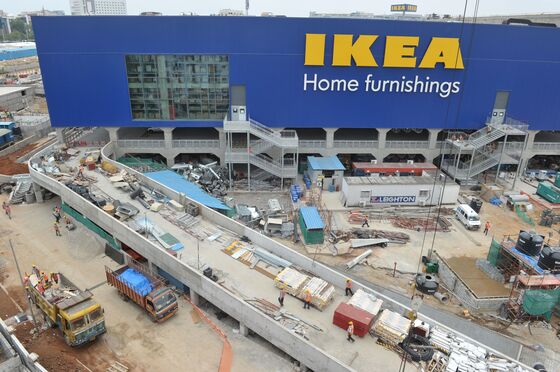 Nov. 22, 2017: Ikea opens an experiential center in Hyderabad's Forum Mall to showcase products that will be sold in its soon-to-be-opened store, including Swedish and Indian delicacies that will be offered in its planned restaurant; says second India store will open in Mumbai in 2019, followed by Bengaluru and Delhi.
Dec. 6, 2017: Ikea announces plan to hire more than 14,600 people in India by 2025 and says half of them must be women. The plan includes 500 to 700 staff for each of its stores slated for Hyderabad, Mumbai, Bengaluru and the National Capital Region. In addition, 171 existing employees will each receive an extra 150,120 rupees ($2,185) contribution to their pension fund.
July 13, 2018: Ikea postpones the planned Hyderabad store opening to Aug. 9 from July 18 and says it may look at opening smaller format stores in cities like Mumbai and Delhi due to space constraints and higher realty costs.
Aug. 9, 2018: Opens first Indian store in Hyderabad.