Hong Kong Mortgage Rates Rise Most Since 2013
(Bloomberg) -- Hong Kong's home loan rates are seeing their biggest jump in five years as higher global funding costs boost speculation local lenders will have to finally follow the U.S. Federal Reserve.
HSBC Holdings Plc, BOC Hong Kong Holdings Ltd. and Standard Chartered Plc will lift the cap for mortgages linked to the city's interbank rates to effectively 2.35 percent starting Monday, while prime rate-based mortgages will rise to 2.25 percent, according to emailed statements late Wednesday.
Mortgages linked to the prime rate, also known as best lending rate, are currently priced at 2.15 percent, according to data from Centaline Mortgage Broker Ltd., leading to an increase of 10 basis points. The last time they'd seen an increase of this magnitude was in March 2013, the data show.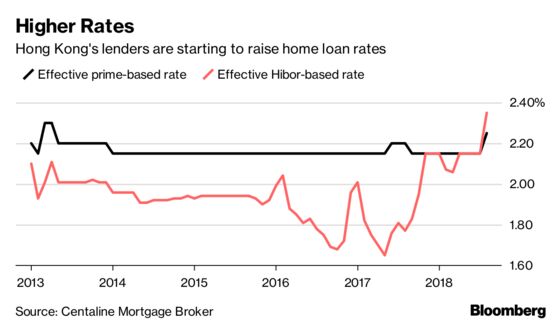 The mortgage industry has been a battlefield since 2016 as apartment prices rose to records and lenders kept interest rates low to lure customers in the world's least affordable housing market. However, borrowers are now starting to price in higher rates on speculation Hong Kong's major lenders will begin to follow the U.S. Federal Reserve in tightening.
The one-month Hong Kong dollar Hibor has climbed 14 basis points this year to 1.33 percent on Thursday. In June, it reached 2.125 percent, the highest since October 2008.
The Hong Kong Monetary Authority has urged banks to raise mortgage rates, Sing Tao Daily reported Wednesday, without saying where it got the information. Setting mortgage rates is a commercial decision made by lenders, the de facto central bank said in a statement in response to the report.
Abundant local liquidity allowed Hong Kong lenders to keep rates relatively low even as the Fed made its first increase this cycle in 2015. The city's aggregate balance of interbank liquidity is at around HK$109 billion ($14 billion). Moreover, the tightening by lenders won't be enough to move house prices, according to Patrick Wong, a Hong Kong-based property analyst at Bloomberg Intelligence.
"Ten basis points increase is just a mild one," he said. "Developers have been accelerating their new launches, but take-up should remain healthy."
Centaline Property's Centa-City Leading Index of existing home prices hit a new record late last month and has risen about 14 percent this year.