Fed Dove Evans Veers in Hawkish Direction Over Rate Outlook
(Bloomberg) -- The Federal Reserve may need to raise interest rates to "somewhat restrictive" levels to combat the effects of recent fiscal stimulus on the U.S. economy, said Chicago Fed President Charles Evans in hawkish comments from one of the central bank's most reliable doves.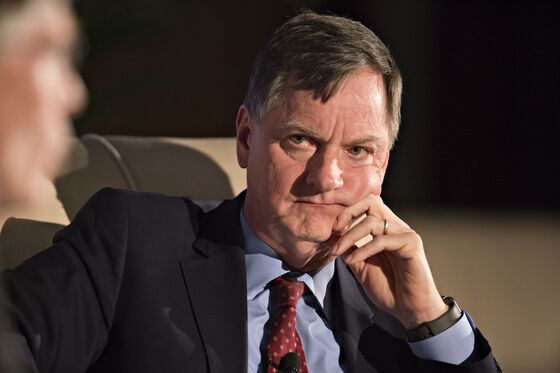 "If inflation continues to be on the order of 2, 2.2 (percent) -- I'm not expecting it to get as high as 2.5 -- that suggests only a modest amount of restrictiveness above our neutral rate might be called for in 2020," Evans told reporters Thursday in Chicago.
The Fed under Chairman Jerome Powell has raised rates twice this year and penciled in two more moves in 2018, with investors widely expecting officials to act at their next meeting on Sept. 25-26.
Policy makers have also signaled they expect to raise rates into slightly restrictive territory -- above the "neutral" rate that would neither speed up nor slow down economic growth -- though some officials prefer to pause the hiking campaign when rates reach that point.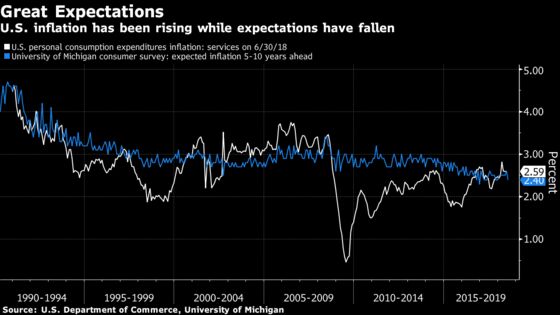 Evans, who has long been considered one of the most dovish officials at the U.S. central bank, said "it would not surprise me at all if we make a judgment to move to a somewhat restrictive setting," citing roughly half a percentage point above his 2.75 percent estimate of neutral.
The tone of his comments mark a shift in his thinking. As recently as December, Evans dissented against rate increases on the grounds that inflation expectations were too low and may prevent inflation from rising to the Fed's 2 percent target.
His change in outlook also caught the attention of Fed watchers.
"He's had a very well-articulated view for many years that has been on one side of the center of gravity of the committee, and the fact that he is now seemingly closer to where the median is, I think that's notable," said Lewis Alexander, chief U.S. economist at Nomura Securities International Inc. in New York.
Powell must forge a consensus on the rate-setting Federal Open Market Committee as he steers policy and that task is made easier if an influential Fed official like Evans moves towards the center.
Given the boost to economic growth expected from tax cuts and federal spending increases signed by President Donald Trump, Evans is more confident in the inflation outlook. An inflation gauge watched closely by the U.S. central bank, based on the prices of personal consumption expenditures excluding food and energy, was 1.9 percent in June, up from 1.6 percent a year earlier.
Chicago Fed's Evans on Unemployment, Restrictive Rates: Excerpts
"I do think that the underlying inflation expectations that sort of underpin the current inflationary environment are a little bit lower than I would like to see," Evans said. "Given the data -- economy being strong -- I think inflation expectations are going to catch up."
Evans sees a need for restrictive interest-rate policy in the coming years because he expects unemployment to fall to around 3.5 percent by the end of 2020. It was 3.9 percent in July. The Chicago Fed's estimate of the so-called natural rate of unemployment -- the rate that policy makers believe would be sustainable in the long run without causing inflation to rise -- is 4.3 percent.
But he cautioned that uncertainty about the natural rate of unemployment is very large, as much as "two percentage points on either side."
Trade tariffs recently imposed on Chinese imports by the Trump administration seem to be "adding some uncertainty, but it's uncertainty at a time where the economy is doing very strongly, and the labor market continues to improve," so it makes sense to continue raising interest rates, Evans said.
Trump recently criticized the Fed's rate increases, saying he doesn't "like all of this work that we're putting into the economy and then I see rates going up."
When asked about Trump's comments, Evans said he wasn't concerned.
"I take a lot of confidence from the way that the Federal Reserve system has been designed by Congress and the president, that we have a certain amount of independence, that we're allowed to undertake our best decision-making," he said.