China's Regional Growth Divergence Adds to Debt Policy Dilemma
(Bloomberg) -- China is growing at a very steady pace -- fluctuating between 6.7 percent and 6.9 percent for the past three years. But under the hood, there's a wide divergence among its 31 regions in the first half of this year -- from a 2.5 percent expansion for northeastern Jilin to a 10 percent boom for southwestern Guizhou.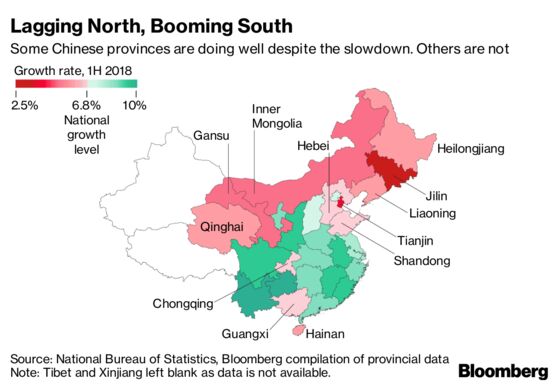 Such divergence makes it hard to crack down on debt across the nation with a one-size-fits-all policy, as the stimulus that may be needed in Inner Mongolia might cause too much lending in more prosperous regions such as Shanghai.
The government borrowing crackdown is having an effect nationwide -- investment decelerated in the first half of this year to the slowest pace in two decades, as local governments were forced to curb debt. Much of the red across northern China shown on the map is due to lackluster private economies and dependence on heavy industries in those provinces, according to Bloomberg economist Qian Wan in Beijing.
"Regions dependent on state-led infrastructure spending were hurt more than others by the deleveraging campaign," said Robin Xing, chief China economist at Morgan Stanley in Hong Kong. "So the politburo is adjusting the pace of the debt curbs, and we'll probably see the expansion of total social financing stabilize in the second half."
There's also the hangover from data manipulation in some provinces, with the cleanup of the data in Tianjin, Jilin and Inner Mongolia hurting their headline growth numbers, Wan said.
Read more: China Stats Chief Says Reports of Fake Local Data Being Examined
Here are some charts showing how wide the growth gaps are between the 29 regions which have already published their growth figures for the first half of 2018: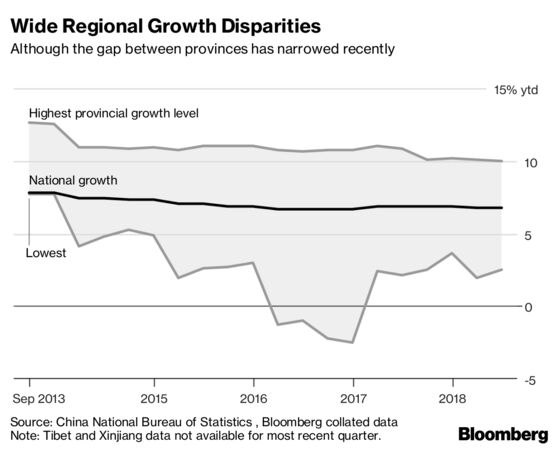 The economy of Guizhou, a less-developed southwestern province which recently made a major bet on the big data industry, is at the top with a 10 percent growth pace. Its neighbor Yunnan, famous for its scenic landscape, also posted an impressive 9.2 percent, while northeastern Jilin, which borders North Korea, expanded at the slowest pace of 2.5 percent.
But provinces don't out-perform forever. Chongqing, the province-level city on the Yangtze River that grew the fastest in 2014 through 2016, expanded 6.5 percent in the first half, below the national pace. Tianjin, ranked first in 2010 through 2013, fell to near the bottom, rising a mere 3.4 percent.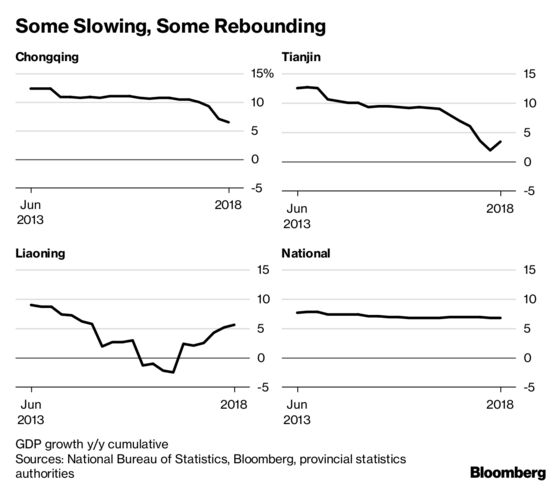 Chongqing's story is a cautionary tale for other investment-fueled regions, according to Haitong Securities Co. "As financial strains shows up and fiscal spending slows down, the investment can hardly sustain the previous rapid pace," analysts Jiang Chao and Chen Xing wrote in a note.
"Whenever the local governments can no longer sustain the funding, investment-driven growth model will face challenges," they wrote, noting that Guizhou had the highest debt-to-gross domestic product ratio among provinces in 2016.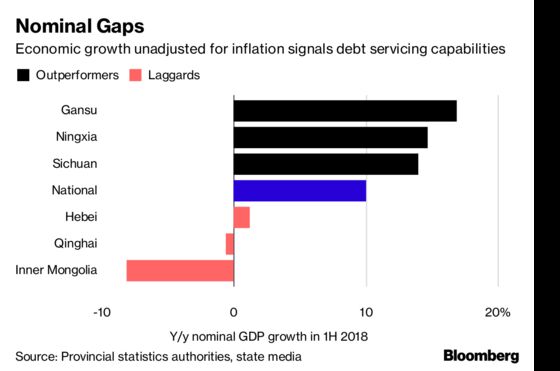 Nominal economic growth shows a different picture. The pace of expansion, unadjusted for inflation, signals the local government's capability to service their debts, as interest is charged on the nominal value of the loan, and their income from taxes is also unadjusted for price changes. Crackdowns on fake data and also the differences in prices between provinces may account for some of the differences between this data and the real growth numbers.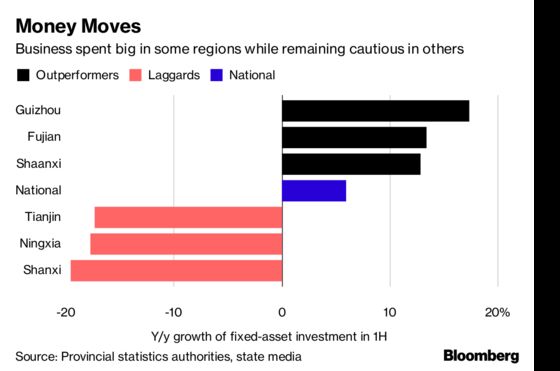 Businesses are investing more in the stronger performers. Fixed-asset investment, which covers spending on real estate, infrastructure, manufacturing and other assets, jumped 17.4 percent in Guizhou while slumping 19.5 percent in Shanxi, whose coal-focused economy has struggled for years.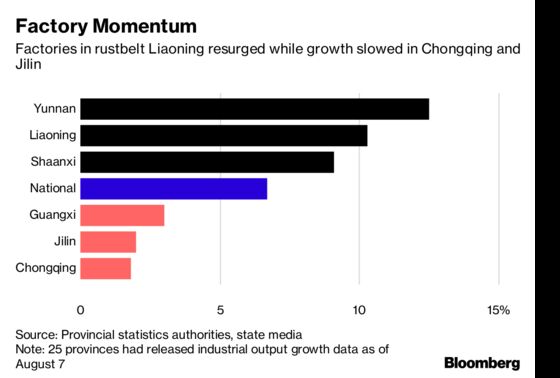 Factory momentum also varied. Manufacturers in Yunnan boosted their output more than 10 percent, which puts the 1.8 percent increase in Chongqing in the shade. Liaoning, a rustbelt province which was mired in recession two years ago, saw its factories fire up again.
Looking ahead, export-oriented regions may see production disruptions due to the trade war with the U.S. However, coastal provinces including Guangdong, Shanghai and Zhejiang, which would be hit the hardest, have the most economic resilience, according to Bloomberg's Wan. That's because they have lower debt and the most dynamic private sectors.