One of World's Most Dovish Central Banks Faces Test of Unity
(Bloomberg) -- Market sentiment may turn and its currency may tumble, but one thing hasn't wavered in Hungary: the unity of its central bank.
It's been more than two years since there was a dissenting voice on the panel that sets interest rates at the National Bank of Hungary. The minutes of its last meeting, released Wednesday, showed that run extended to a 26th meeting in July, when borrowing costs were left at a record low.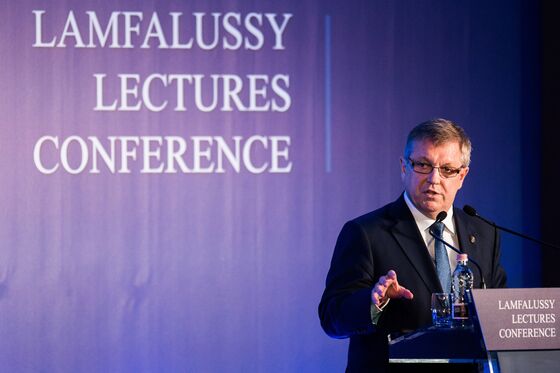 The common resolve coincided with an unprecedented period of monetary easing, which has helped Prime Minister Viktor Orban fire up the economy. But tighter policy may soon be called for as faster growth boosts inflation and investors demand higher yields. That could prompt a divergence of views under Governor Gyorgy Matolcsy, whom Orban appointed in 2013 with a mission to reduce borrowing costs.
"We haven't tested the unity of the Monetary Council in a tightening cycle," said Cristian Maggio, head of emerging-markets strategy at London-based TD Securities. "This is the first time the tide is turning since Matolcsy's appointment and it's at turning points you start to see cracks in homogeneous views."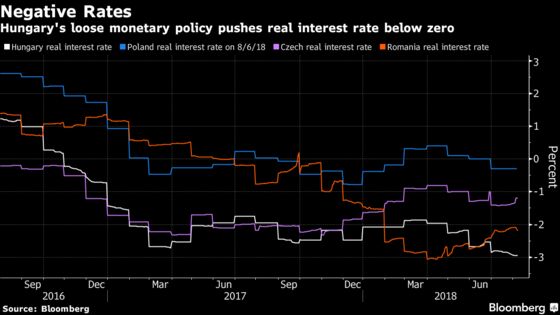 While unanimity in central bank policy isn't unheard of -- the European Central Bank often makes its decisions without dissenters -- in Hungary rate-setters rarely make public statements and when they do are known to toe the official line and defer to Marton Nagy, Matolcsy's deputy, to guide the monetary debate. The central bank's press office declined to comment.
The top-down approach pursued by Matolcsy and Nagy contrasts with peers in the region and beyond. Mojmir Hampl, a Czech central bank vice governor, was alone in voting for a rate hike in May before the rest of the board backed the first back-to-back increases since 2007. In Poland, where the benchmark has been unchanged since 2015, there's a constant stream of communication from rate setters who regularly air policy disagreements.
In Hungary there are no such mixed messages, and the central bank, known as the MNB, has convinced investors to follow it down an aggressive monetary easing path that also included mortgage-note purchases on the secondary market and extending zero-interest funding to lenders.
"Investors find it refreshing that the MNB differs strikingly from peer central banks," said Phoenix Kalen, director of emerging-market strategy at Societe Generale SA. "This consistency has helped Hungary to achieve a high level of credibility in investors' eyes and successfully promote the various programs of unconventional easing."
The unity of the nine-member rate-setting body hasn't made it impervious to market blowback. As the forint tumbled to a record in early July and efforts to lower long-term yields faltered, Matolcsy's group signaled it's ready abandon loose monetary conditions if necessary. The forint has recovered; it traded at 320.48 per euro at 9:43 a.m. in Budapest on Thursday, compared with a record low 330.75 on July 2.
Still, the currency weakening has contributed to faster inflation. The annual consumer price index rose to 3.4 percent in July, the highest in more than five years, from 3.1 percent in June, the Budapest-based statistics office said Wednesday. The central bank's medium-term target is 3 percent.
In Wednesday's minutes, rate setters said they backed a "cautious and predictable" policy approach because of the volatility in financial markets and its impact on inflation. Several members stressed the need to monitor the potential effects of decisions from the European Central Bank, which is preparing to end its bond buying later this year.
The market backdrop "may call for action in the end," said Kubilay Ozturk, a senior emerging-market economist at Deutsche Bank AG in Istanbul. He added that a policy shift may not crack the central bank's unity. "Probably it will again be unanimous."