Turkey Must Hike Rates to 23% as Crisis Worsens, Investec Says
(Bloomberg) -- Turkey's central bank must raise interest rates by more than 500 basis points if it's serious about stemming a deepening economic crisis, according to Investec Asset Management.
"They need to properly tighten the screws" and raise the policy rate to at least 23 percent, Werner Gey van Pittius, co-head of emerging-market fixed-income at the South African money manager that oversees $145 billion of assets, said at a briefing in Sydney. "Otherwise it won't recover."
Turkey's central bank -- which has raised its main policy rate to 17.75 percent -- unexpectedly refrained from a further hike at its last meeting.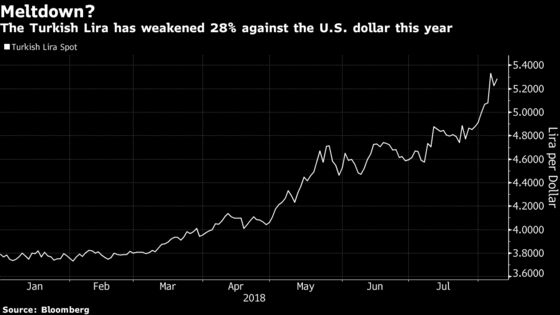 President Recep Tayyip Erdogan's influence on monetary policy has alarmed investors. The lira has tumbled 28 percent against the dollar this year as Turkey's widening current-account deficit made it especially vulnerable to the emerging-market sell-off. The currency sank to a record low earlier this week as a diplomatic spat with the U.S. added to the malaise. The yield on 10-year bonds surged above 19 percent to an all-time high.
Investec is betting the lira will tumble further, resuming a short position by buying the dollar against the currency in the forward foreign-exchange market, Gey van Pittius said. The country has 1.3 months of dollar import cover left on a net reserve basis, not the grossed up number the central bank will quote you, along with a lot of offshore corporate debt, he said.
"Who's to say what the fair value price is of any dollar if you can't get hold of dollars," Gey van Pittius said. "Then the Turkish Lira just melts down, and then you have a proper crisis. And it's already in proper crisis territory."