The Trouble With China's Anti-Poverty Efforts
(Bloomberg Businessweek) -- The 550 residents of Jianxin, a village in a picturesque valley three hours' drive from Beijing, used to dwell in ramshackle houses perched on steep hills. The summer's heavy rains often caused floods and mudslides, making the roads impassable and leaving the villagers stranded for weeks. That's until Beijing classified Jianxin as "unfit to live" and started moving its residents into a new apartment complex of 200-plus units, with a health clinic, a day care center, and a landscaped enclosure dubbed the Courtyard of Happiness.
There's no question the government's 60 million yuan ($8.8 million) investment has transformed the lives of the 163 families that have been relocated since construction wrapped up in 2016. Yet gratitude wasn't the predominant sentiment expressed by Jianxin's residents when this reporter paid them a visit in May. Many were angry over the lack of transparency on how the money was spent, worried about a lack of jobs, and upset about a yawning wealth gap between them and some of their neighbors.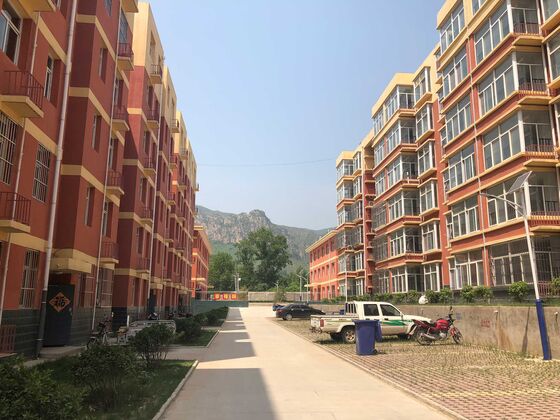 Liang Fucai's 100-square-meter, three-bedroom apartment is a big improvement from the old farmhouse he shared with his brother's family. But the 56-year-old complains he has no regular income after having signed over his plot of land to the forestry bureau in exchange for 20,000 yuan: "I used to farm, but my land and old house were taken away, so now what do I eat?"
At the most recent Communist Party Congress in October, President Xi Jinping identified poverty reduction as one of three "critical battles" (mitigating financial risk and curbing pollution are the others). His government has pledged to lift 30 million Chinese out of extreme poverty by 2020. Meeting that goal shouldn't be a problem, given the ample financial resources at Xi's disposal. The bigger challenge will be convincing the beneficiaries of programs like the one in Jianxin that officials are motivated by more than pure self-interest. "The degree of distrust between the governed and those who govern means even well-intentioned efforts at poverty reduction are greeted with cynicism at best and disbelief at worst," says June Teufel Dreyer, a China expert at the University of Miami. "Hearing the latest effort to make their lives better, people immediately ask, 'Who will profit by this?' "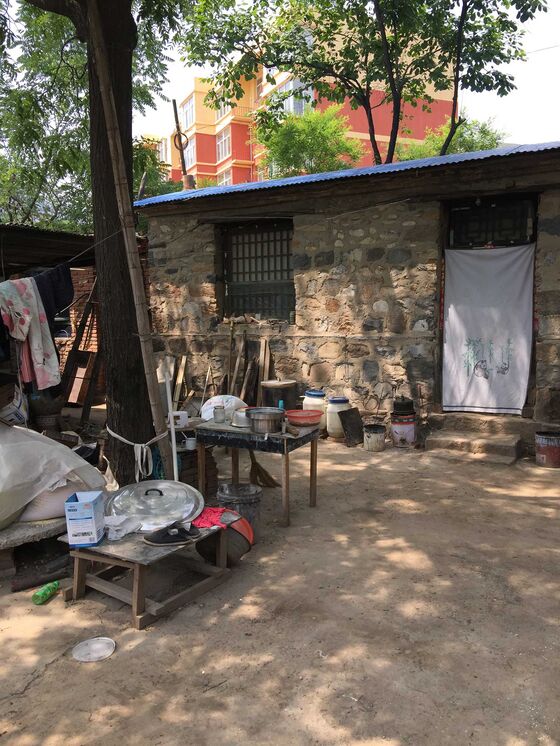 China's progress in alleviating poverty has been universally recognized. In 1990 almost 67 percent of the population met the World Bank's definition of poverty; by 2014 that share had dwindled to 1.4 percent. Much of the credit goes to an economy that, stoked by government policies, has averaged growth of almost 10 percent a year over the past four decades. Social programs have helped, too: In the last five years more than 8 million have been relocated from areas deemed inhospitable.
China will spend a total 1.2 trillion yuan on poverty alleviation this year, according to calculations by Beijing-based brokerage Shenwan Hongyuan Group Co. Yet Xi's war on poverty is playing out against a background of widening income inequality. In a working paper published by the International Monetary Fund in June, a group of economists noted that China is now among the most unequal countries in the world, and the problem is poised to worsen as breakneck urbanization causes those in rural areas to fall further behind. Urban households had an average per capita disposable income of close to $5,600 last year—almost three times the $2,064 of those in the countryside.
A rapidly aging population is also contributing to the problem as the country lacks an adequate social safety net. A large-scale survey carried out by Peking University in Beijing found that nearly a quarter of China's elderly live below the poverty line. "The legitimacy of the Communist Party under Xi Jinping is more dependent on performance and delivery of a better tomorrow than ever," says Steve Tsang, director of the SOAS China Institute at the University of London. "If Xi cannot deliver on further poverty alleviation, he fails."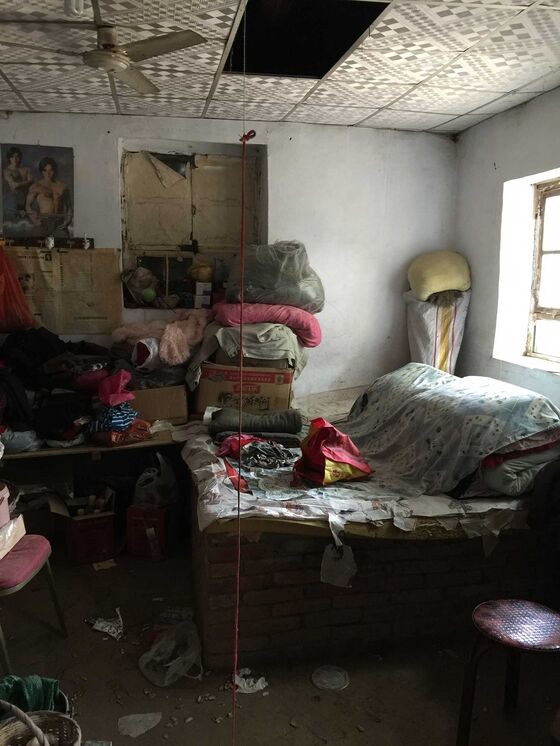 The widening wealth gap is one source of the resentment that several Jianxin residents voiced in interviews. Liang Yucheng, 67, lives with his wife in a dilapidated house right next to the new apartments on a combined pension of 177 yuan a month. They sleep on a stone bed, and during the freezing winters their home is often choked with smoke from the wood fire that is their only source of heat. The couple can't afford the 10,000 yuan needed to move into one of Jianxin's new apartments, says Liang, and he's baffled by how local officials decide who is poor enough to get one for free. "Some people with cars at home are classified as poor, others give a farmhouse that they don't live in to justify moving into a new apartment," he says. "Everything depends on connections with officials."
Some of Jianxin's residents claim local Communist Party cadres skimmed some of the funds allocated for the project—though they have no proof. Their suspicions aren't entirely unwarranted: The state-run Xinhua News Agency reported in December that one official investigation recouped 730 million yuan in misappropriated funds intended for poverty reduction.
The government began planning for the relocation of the villagers in 2013 and completed construction of the compound three years later, according to local party secretary Gao Junjie. "Their toilets were outside, and they couldn't even bathe in their old farmhouses before," he says. "They couldn't get warm in the winter, and now they have environmentally friendly heating paid for by the government." Gao says the price of 5,000 yuan per person per 25 square meters of space is affordable for most villagers, while those classified as poor pay nothing.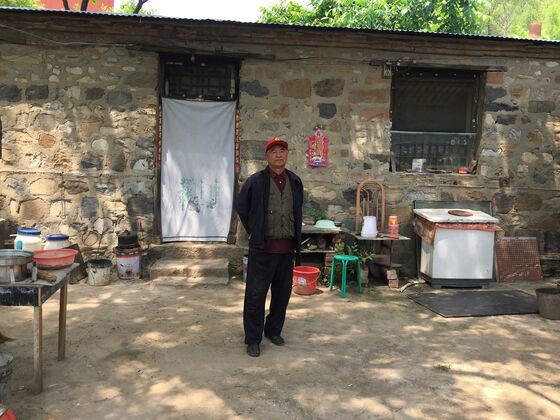 Under the local government's leadership, the villagers are shifting into higher-yielding crops, such as a type of walnut used to make ornaments, which can earn them five times more than the corn they used to farm. Gao also has a vision of eventually turning the area into a destination for Chinese tourists by adding flower farms and pick-your-own fruit orchards.
Such visions of the future are no comfort for people like Liang and his wife. His sense of indignity at not being offered a home inside the modern complex only grows when he sits in front of his dusty old television and sees images of such dazzling cities as Beijing, Shanghai, and Shenzhen. "Those people have fists full of cash, and we have nothing," he says. "I've watched economics programs that show how you can start a business, but I don't have any seed money. What can we ordinary people do? We have no way out of here."
To contact the editor responsible for this story: Jeff Black at jblack25@bloomberg.net, Cristina Lindblad
With assistance from Editorial Board