China Imports Jump, Exports Robust as Trade War Yet to Take Toll
(Bloomberg) -- China's exports grew faster than expected, while imports surged, showing both domestic and international demand continue to shrug off the uncertainty of the trade conflict with the U.S.
Exports rose 12.2 percent in July in dollar terms from a year earlier, the customs administration said Wednesday, faster than the forecast 10 percent. Imports climbed 27.3 percent, leaving a trade surplus of $28 billion.
As the world's largest exporter, China is still benefiting from robust global demand, but increasing tensions and rising trade barriers with the U.S. are weighing on the outlook. Although most of the threatened tariffs still haven't gone into effect yet, the two remain locked in an escalating tit for tat exchange of threats, signaling worse is to come.
"The higher-than-expected imports were pushed up by energy prices, which narrowed the trade balance," said Iris Pang, greater China economist at ING Wholesale Banking in Hong Kong. "The impact of tariffs on exports is yet to be reflected. We will see a full-month tariff effect in August."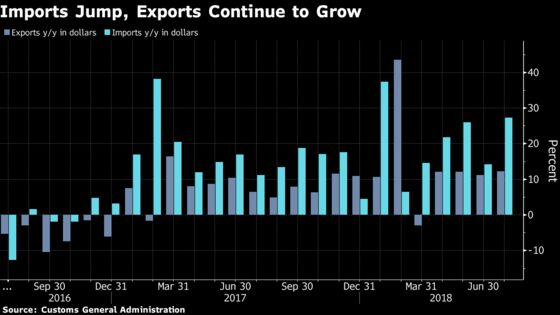 The Chinese government last week announced its list of $60 billion worth of U.S. goods it will hit with higher import taxes should the U.S. follow through on a plan to impose duties on an additional $200 billion of Chinese goods. That follows a previous round, where each side imposes tariffs on $34 billion of imports, with promises of $16 billion more.
What Our Economists Say...
The pickup in exports points to limited initial impact of the trade war so far, with strong global demand supporting shipments. "Looking forward though, the outlook for China's exports is grim in view of the escalating trade war."

"Our view is that exports will become a drag on growth" and policy support will be stepped up. 

-- Chang Shu and Fielding Chen of Bloomberg Economics
In the meantime, China's economy is showing signs of weakness -- the yuan has been on a losing streak for more than a month, the equity market has suffered declines, and other early indicators are pointing to a slowdown. The central bank has made it more expensive to bet against the yuan in a bid to ease pressure on the currency.
China's exports to the U.S. in July rose to $41.5 billion, making up 19.3 percent of its total shipments. The trade surplus with the U.S. stood at $28.1 billion, close to the record-high in June, according to Bloomberg calculations.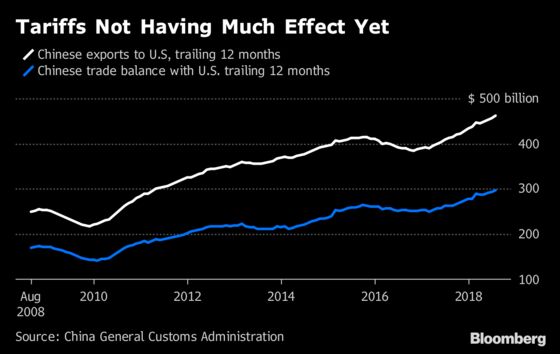 "Trump's threat of tariffs on an additional $200 billion Chinese goods might prompt American front-loading to avoid the levies, so the trade balance number we have seen is not quite a surprise," said Gai Xinzhe, an analyst at Bank of China's research institute in Beijing.
In the meantime, imports volume of coal, oil, iron ore, and natural gas all increased in July. Imports from Australia, Russia, South Korea and Japan all surged last month.