It's the Politics Stupid! Jobs Risk for Australia's Central Bank
(Bloomberg) -- Politics is shaping up as the wild card for Australia's central bank.
The Reserve Bank of Australia is set to stick to the script when it updates economic forecasts later this week by predicting stronger growth, a gradual pickup in inflation and a slow drop in unemployment.
But the RBA doesn't appear to be factoring in that a tight election race, which needs to be held by May, risks spurring a hiring slump, says Bill Evans, chief economist at Westpac Banking Corp. -- just as it did around the previous two polls.
Opinion polls and the government's slim majority "point to considerable political uncertainty," Evans said. "If businesses acted cautiously during the lead up and the aftermath of the last two federal elections then we cannot rule out a repeat in 2019. Certainly the bank's assumption of a healthy 1.6 percent – 1.8 percent jobs market over that period would be challenged."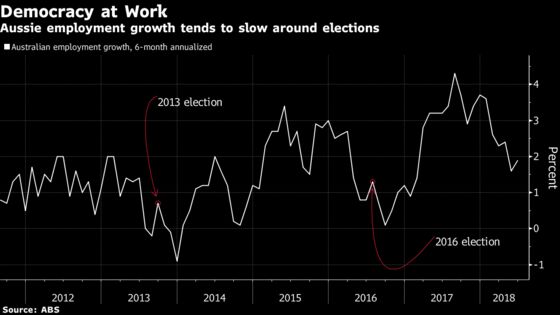 Surveys have consistently shown the government lagging the opposition Labor party, which wants to scrap a planned corporate tax cut and wind back personal income tax reductions for wealthier Australians. In an environment of stagnant real wages and interest rates, fiscal stimulus is the only option for helping boost incomes and supporting consumption.
The central bank in May forecast economic growth will accelerate to an annual 3.25 percent by December and then to 3.5 percent by June 2019, which is well above Treasury's estimate of the economy's speed limit at 2.75 percent. In the RBA's policy statement Tuesday, when it left rates at a record-low 1.5 percent, the central bank said that unemployment is expected to fall "over the next couple of years" to around 5 percent.
"Recent history around election periods raises significant uncertainty about the sustainability of the bank's employment forecasts and hence their expectation of above- trend economic growth," said Evans.
Governor Philip Lowe speaks in Sydney Wednesday and the Reserve Bank's updated estimates will be released Friday.