German Companies Battered by U.S. Trade Threats See Output Slide
(Bloomberg) -- German companies creaked under the pressure of global trade disputes as the first half of the year drew to a close.
Figures published Tuesday showed industrial production in Europe's largest economy fell 0.9 percent in June, while exports were unchanged from the previous month. The trade surplus, frequently criticized by U.S. President Donald Trump's administration as proof of unfair practices, widened.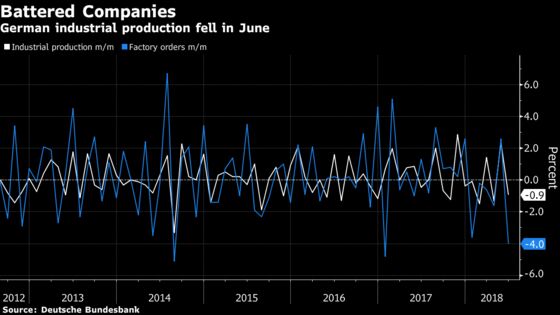 Actual (June)
Survey (June)
May
Industrial output m/m
-0.9%
-0.5%
2.4%
Industrial output y/y
2.5%
3.0%
3.0%
Exports
0.0%
-0.3%
1.7%
Imports
1.2%
0.3%
0.7%
Trade surplus
EU21.8b
EU20.9b
EU19.6b
Current account surplus
EU26.2b
EU21.0b
EU13.3b
The latest figures pre-date last month's agreement by the U.S. and European Union to hold off from further tariffs as long as negotiations are ongoing, and there are signs that the German economy may have started to pick up. Surveys of private-sector business activity have risen for two straight months, and the Bundesbank has said it's seeing a "little more" momentum as private consumption drives the expansion.
At same time, firms including automakers BMW AG and Daimler AG have recently reiterated that trade tensions could drag down profits in coming months. That outlook was given credence on Monday by data showing the first annual decline in Germany's factory orders -- an indicator of future output -- in almost two years. Second-quarter economic growth data will be published on Aug. 14.