Romania Says Rate Hikes Are Nearing End After Inflation Triumph
(Bloomberg) -- Romania signaled that increases in borrowing costs are drawing to a close after the central bank surprised economists by holding its key interest rate unchanged.
Governor Mugur Isarescu said three hikes already this year had helped tackle the European Union's fastest inflation, and that the goal is to avoid further cooling the economy. The National Bank of Romania kept its benchmark rate at 2.5 percent, a move predicted by just three of 18 analysts in a Bloomberg survey. The rest saw it being raised a quarter-point.
"I can't say right now that the war has been won, but a battle against inflation has been won as it's clear that inflation is easing," Isarescu told reporters Monday in Bucharest. "There's indeed a good chance that the interest rate won't rise much more."
Romania opted not to follow the U.K. and the Czech Republic in lifting interest rates, despite inflation continuing to top the central bank's target. Arguments against an increase included slower economic growth, higher money-market interest rates that are already quelling price pressures and a stronger performance by the leu than seen in other emerging-nation currencies. The bank reiterated that inflation will slow through year-end.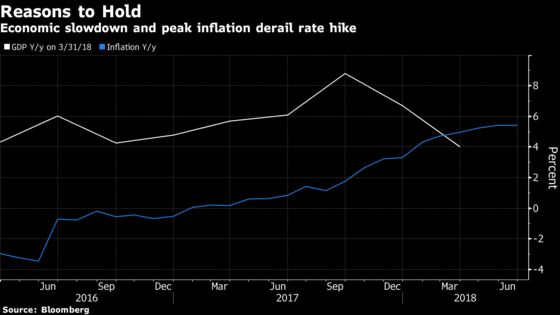 The leu slipped 0.5 percent against the euro after Isarescu's remarks, heading for its biggest daily decline since Jan. 25. As investors priced out bets for more monetary tightening, the yield on benchmark two-year debt fell 11 basis points to 3.97 percent, a two-week low.
Addressing a liquidity shortage, the central bank also lent 10.5b lei ($2.6 billion) to 11 commercial banks in the biggest repo auction in more than five years. That sent the three-month interbank Robor rate down 7 basis points to 3.25 percent.
After peaking at 5.4 percent in June, consumer-price growth will probably slow to less than 4 percent by year-end, according to the central bank's most-recent forecasts. But price expectations are elevated and the labor market remains tight. The bank will release updated projections on Aug. 8.
While Deputy Governor Liviu Voinea said last month that Romania isn't done yet with rate hikes, the bank's board has been surprised by a loss of momentum in the economy, whose expansion has halved since reaching an annual 8.8 percent in the third quarter of 2017.
Isarescu said rates policy remains uncertain as the European Central Bank seeks to end bond purchases that were part of its crisis-era toolkit. "We're not in a position to say we won't hike rates anymore," he said. "We don't know what's going to happen in Europe."
While the pace of tightening in Romania has abated as risk aversion eased on global markets, one more rate increase remains possible this year, according to Eugen Sinca, an economist at Banca Comerciala Romana.
"We still have one more hike penciled in for 2018," he said in a note. "However this may be more data-dependent and more closely related to international financial-market sentiment."