Treasury Seen on Borrowed Time Before Supply Deluge Lifts Yields
(Bloomberg) -- U.S. Treasury Secretary Steven Mnuchin appears to be pulling off a bit of a magic trick -- revving up debt issuance and not having to really pay up to do it. That rosy scenario may be on borrowed time.
At least that's what some analysts say, with the fiscal outlook deteriorating and political risk looming over the dollar as special counsel Robert Mueller continues his investigation of Russian interference in the 2016 election. The Treasury said Wednesday that it's boosting long-term debt sales to the highest since 2010. And the trajectory for issuance only points higher, with the budget deficit swelling toward $1 trillion and the Federal Reserve shrinking its balance sheet.
Yet the benchmark 10-year yield, after edging above 3 percent for the first time since June on the Treasury's financing announcement, has already retreated. Bonds gained Thursday amid escalating trade tensions, which undermined global stocks and boosted the dollar. The greenback is up almost 2 percent this year, which gives confidence to Treasuries buyers for the moment that currency losses won't erode the value of their investment.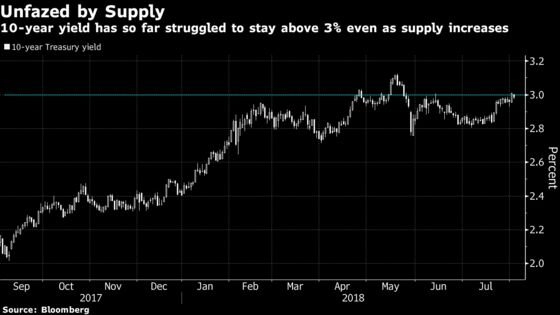 "For now, the Treasury is getting away with all this supply without having to offer higher yields, because the dollar hasn't been hit yet by the many political forces that exist," said Ben Emons, chief economist and head of credit portfolio management at Intellectus Partners. "If this political risk, such as related to the Mueller investigation, begins to get priced into the dollar, that will likely be an inflection point and supply will matter.''
While the U.S. economy may be getting a jolt from the administration's tax-cut package, government receipts are trailing spending. Gross domestic product expanded at a 4.1 percent annual pace last quarter, the fastest since 2014. But tax revenue in the same period was little changed from the year-earlier period.
Of course, the fiscal backdrop was already gloomy, with the Fed's rate hikes boosting debt-service costs and expenses climbing for large mandatory programs such as Social Security, Medicare and Medicaid.
"We will continue to evaluate and, if we need to, increase issuance accordingly in the future based on our expected borrowing needs, " Deputy Assistant Treasury Secretary Clay Berry told reporters in Washington on Wednesday. She also noted that the government will need to meet its financing needs whether interest rates are rising or falling.
The 10-year yield was at 2.98 percent as of 2:10 p.m. Thursday in New York, down 2 basis points on the day.
Stephen Stanley at Amherst Pierpont Securities LLC predicts the Treasury will boost auction sizes for the next six quarters.
"The fiscal outlook is as bad as I can remember ever, easily,'' he said.
There are already signs of trouble ahead for the Treasury, said Stanley, the firm's chief economist, noting that some auctions this year have been "sloppy."
"Everything points to large deficits and supply that will keep going up, with no respite in sight," Stanley said. With the market and supply, "it's the kind of thing where it doesn't matter, and then it does, and then it's a problem. It may be a single moment, we don't know what exactly will be the trigger, when all of this changes."