Queasy From China's Stock Rout? Try Pickles and Booze
(Bloomberg Opinion) -- Losing money in China's stock market? You can still afford a meal of rice and pickles, washed down with a $2 bottle of baijiu to numb the pain.
The market is in solid bear territory this year. Of the 2,000-odd stocks in the Shenzhen Composite Index, only seven are trading above their 200-day moving average. The index is down 21 percent in yuan terms.
Shenzhen-listed Chongqing Fuling Zhacai Group Co., which sells pickled mustard stems, a national favorite eaten alone or sauteed with vegetables, soared 74 percent this year to reach a $3.4 billion market cap. Beijing Shunxin Agriculture Co., which distills erguotou, a type of baijiu (a grain liquor) that costs a bit more than $2 for a half-liter bottle, rallied 125 percent to a $3.6 billion total.
Meanwhile, the world's most valuable liquor company, Kweichow Moutai Co. — the investor's darling last year — has given up all of its 2018 gain.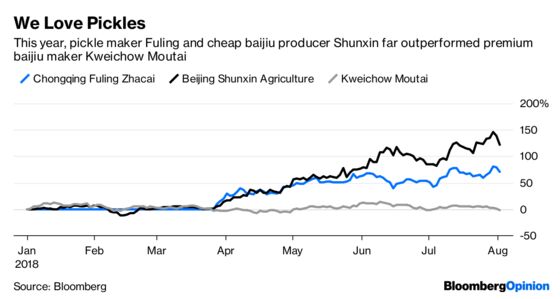 One can see some investor rationale. Fuling has 20 percent of China's mustard-pickle market, as much as the next nine biggest names combined. And just like Kweichow Moutai, Shunxin's Niulanshan baijiu is a national brand. As raw material costs rise, smaller players will be forced out, giving the dominant companies even greater market share, China International Capital Corp. reckons.
Both companies are quite profitable. Sales at Fuling rose 34 percent in the first half, on a 54 percent gross margin, while revenue at Fuling's baijiu business grew 24 percent last year with a 55 percent gross margin. Baijiu accounts for only 55 percent of Fuling's total revenue but almost all its profit.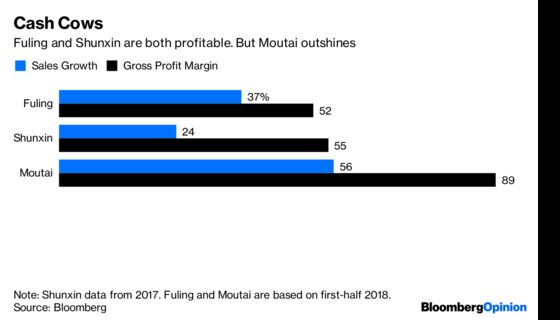 However, pickles and cheap liquor don't rank anywhere near Kweichow Moutai, whose iconic label is recognized by every Chinese household as a premium product. (Moutai also has a supply moat.) And looking at the financials, Moutai is still more profitable, and has a less demanding valuation. Considering the commoditized products they sell, Fuling and Shunxin trade at an eye-popping 36.7 and 38.3 times 2018 earnings, respectively.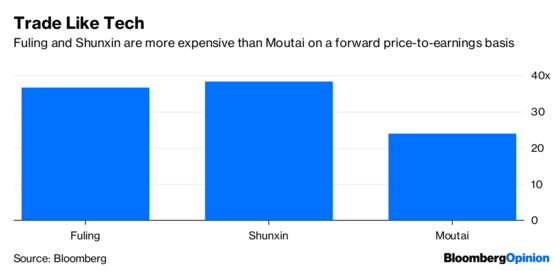 So why are they so popular?
Economists call these products inferior goods, and it's not an insult. Normally, consumers reduce purchases when they feel poorer. But demand for an inferior good rises in harder times. Economics 101 textbooks often use potatoes as example. In China, pickled mustard and 52-degree hooch work just as well.
There are good reasons for the model to work this year: The value of residential property, the biggest component of most consumers' wealth, is being reined in by local governments fearful of a bubble. Shenzhen, for example, this week said it will forbid owners to sell apartments held for less than three years. And the A-shares bloodbath has done so much damage that investors are flocking to money market funds instead.
So those audacious souls who remain in the stock market are betting that consumer confidence will fall so much that the cheap stuff is where the riches lie. 
Week after week, China's state-owned media tell us that there's no basis for a sustained decline in the stock market. Investors may be telling us something very different.
This column does not necessarily reflect the opinion of the editorial board or Bloomberg LP and its owners.
Shuli Ren is a Bloomberg Opinion columnist covering Asian markets. She previously wrote on markets for Barron's, following a career as an investment banker, and is a CFA charterholder.