It's Back to Square One in Turkey as Inflation Undoes Rate Hikes
(Bloomberg) -- Markets are teaching the Turkish central bank a tough lesson: waiting too long to act could end up almost the same as doing nothing at all.
After months of inaction in the face of double-digit inflation, the monetary authority boosted borrowing costs by 500 basis points starting in April -- but the move came too late to stop a more than 20 percent lira slide since end-March that has boosted import costs. Economists estimate consumer prices jumped more than 16 percent in July, a pace that effectively drives inflation-adjusted policy rates down to levels seen at the end of last year.
Governor Murat Cetinkaya said Tuesday that the central bank held off on another rate hike last week because economic growth was seen to be slowing, and that he wants to see the lagged impact of past increases. Still, market pricing suggests the inflation outlook is only going to get worse if the monetary authority hesitates further on tightening policy soon.
The lira fell as much as 2.1 percent to an all-time low of 5.0157 on Wednesday, piercing through a key psychological level of 5 per dollar after the U.S. imposed sanctions on two Turkish ministers over the detention of a U.S. pastor. It was trading 0.4 percent higher at 4.9727 as of 8:47 a.m. in Istanbul.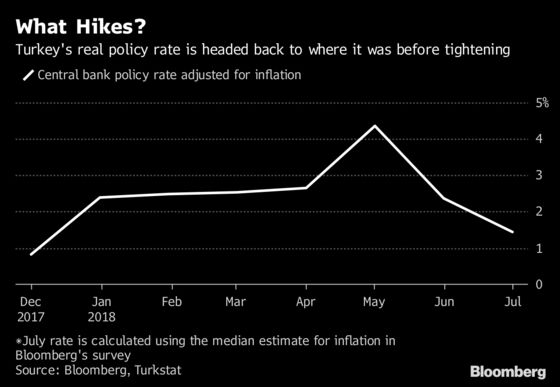 A report due Friday will show consumer prices rose at an annual pace of 16.3 percent in July, according to the median estimate in Bloomberg survey. That would push down the central bank's main policy rate to less than 2 percent after adjusting for price growth.
The one-year dollar-lira currency swap rate jumped to the biggest premium on record to the three-month contract after the central bank unexpectedly refrained from raising rates on July 24 -- a sign that investors are demanding more compensation for longer-dated securities to protect themselves against an acceleration in price growth.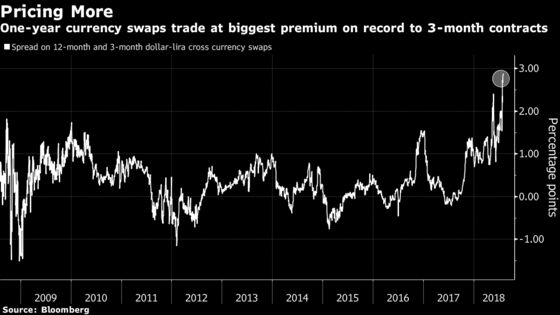 "The central bank has remained behind the curve," said Alp Serbetli, a currency trader at Anadolubank AS in Istanbul. "The market is currently pricing that risk premiums and inflation will further increase and that the central bank will be forced to hike more."