Czech Rate Setters Flag Another Hike After Back-to-Back Increase
(Bloomberg) -- The Czech central bank staged its first back-to-back interest-rate increase in 11 years and suggested that it may hike again soon as it tries to tame inflation fueled in part by a persistently weak currency.
After leading Europe with four rate rises in the past year, policy makers in Prague are extending their push to cool the economy and rein in inflation that's surged above the 2 percent target. Thursday's quarter-point increase in the benchmark rate to 1.25 percent was triggered mainly by the weaker-than-expected koruna, which will probably remain under pressure from abroad until about end-year, Governor Jiri Rusnok said.
The central bank's new forecast outlined a steeper outlook for market rates this year, but the koruna reacted with another slide against the euro as the market anticipated an outlook of an even sharper upward path for borrowing costs. Domestic inflation pressure, also stemming from a lack of workers and rapid wage growth, may intensify and warrant more rate increases, Rusnok said.
"It certainly can't be ruled out that the next step will follow relatively very soon," he said. "If the existing conditions more or less persist, then there will certainly be room, I would say, as early as at the next monetary meeting."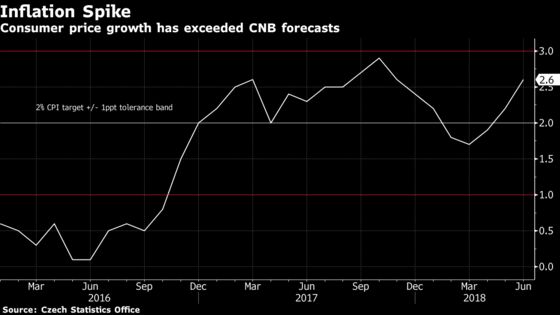 After a surprising rate increase in June, the koruna was undercut by capital outflows from emerging markets tied to increasing tension around the simmering global trade war and monetary tightening by the U.S. Fed. The currency has since gained, but the average exchange rate still remains much weaker than the central bank's projection for all of the third quarter. Following the decision, it slid 0.2 percent at 3:08 p.m, trading at at 25.64 against the euro.
Uncertainty about future koruna movements and potential escalation of global trade tensions are among risks that may influence Czech inflation in either direction, according to the rate-setting panel.
Domestic industry appears to be butting up against its growth limits because of a labor shortage, which is also pushing real salaries up at the fastest pace in 15 years. Increasing incomes are boosting household consumption, which has become a key economic driver and is stoking inflation risks.
The updated forecasts envisage the economy expanding less this year than previously anticipated, but the projections for inflation and market interest rates have increased. While the central bank adjusted its exchange-rate expectations to reflect negative sentiment toward emerging-market currencies, it still assumes that monetary tightening next year will be mostly delivered via koruna appreciation.
Selected details of the new forecast:
2018 GDP growth cut to 3.2 percent from 3.9 percent
2018 average Pribor raised to 1.3 percent from 0.9 percent
Inflation in third-quarter of 2019 raised to 2.1 percent from 1.8 percent
Average 2018 koruna exchange-rate changed to 25.5/EUR from 25/EUR
The central bank delivered a hawkish message for the short-term, but the rate outlook for next year disappointed the market because it doesn't imply more increases, said Komercni Banka AS analyst Viktor Zeisel.
"We think the reality will be different in the end," Zeisel said. "The koruna won't appreciate so quickly, and the central bank will raise rates again. We see one more hike this year and three more in 2019."