Central Banks Take the Spotlight as Economic Anxiety Lingers: Eco Week
(Bloomberg) -- It was one of the busiest weeks of the year for global central banks.
While the Federal Reserve stayed the course, the Bank of Japan and Bank of England took steps that drew reactions in financial markets.
Here's our weekly wrap of what's going on in the world economy.
The smorgasbord of central bank decisions this week largely were delivered as expected, with the Reserve Bank of India and BOE forging on in the tightening cycle. The Fed held pat with a hint toward a September rate hike amid a "strong" economy, a picture reinforced by the U.S. jobs report on Friday. The BOJ kept rates steady while announcing a range of policy changes, including adding forward guidance and allowing a wider bond-yield range. Brazil predictably left its benchmark rate unchanged at 6.5 percent as inflation pressures abate.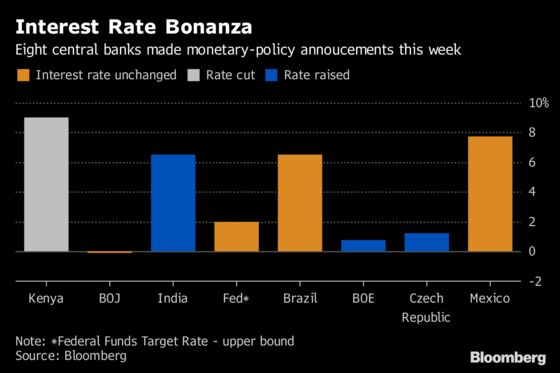 More Central Bankers' Musings
Higher inflation alongside weaker growth makes things more complicated for the European Central Bank. The People's Bank of China is said to be more flexible on loan quotas amid a cooling economy. The Swedish economy is heating up, allowing the Riksbank some room to consider tightening before year's end. Russia's thinking in the opposite direction, staying open to the possibility of another rate cut amid more growth risks.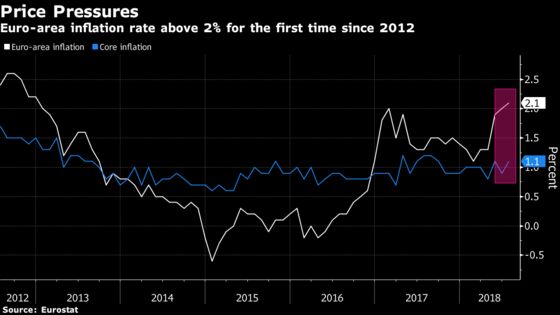 The U.S. is mulling higher tariffs for China goods at the same time as it aims to restart talks with its trade-war rival. In a sign that tit-for-tat is becoming the norm, China retorted that the U.S. needs to stop "blackmailing and pressuring," as that will go nowhere, which in turn prompted Commerce Secretary Wilbur Ross to warn of additional pain. China's foreign minister publicly mocked the Americans for faulty economics. Then on Friday, China retaliated by announcing a list of $60 billion worth of U.S. imports it plans to apply tariffs on should the Trump administration follow through with its latest trade threats. Still, things look sunnier on the Nafta front, with the U.S. and Mexico appearing close to a deal on cars.
Count Tyson Foods among those blaming the trade war for slashing its 2018 profits. Factories the world over are holding back orders, and U.S. manufacturers are considering production sites abroad. South Korea can breathe a bit easier amid rebounding exports backed by solid semiconductor demand. Here's a QuickTake on where to look in commodities prices to track the trade-war bite.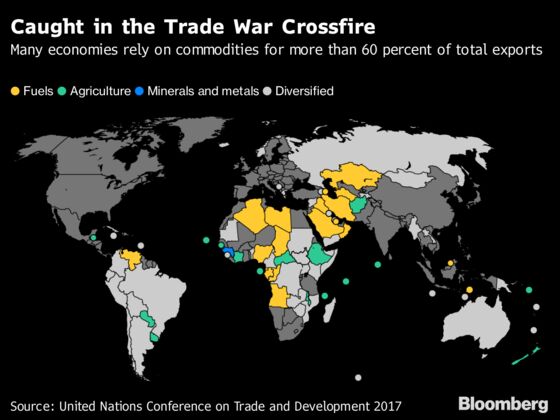 ASIA INSIGHT: Canary in Trade Coal Mine Sputters Exports Warning
Building urgency to notch a Brexit deal cut Theresa May's holiday short. While the U.K. leader holds out hope for Labour Party support for her Brexit plan, Bank of England chief Mark Carney says chances of no deal are " uncomfortably high" and that half his time is taken up by preparing the economy for the transition. Brexit alone could prompt the next housing crash, Bloomberg Economics finds.
Elsewhere in consumer unrest, New Zealand workers took to the streets to fuss about a decade of limp wage growth. Neighbor Australia is dealing with bubbling frustrations over its Aussie-per-minute population boom. And China is trying to quell protests and a social media explosion over hundreds of thousands of faulty vaccines given to children.
New Zealand Wages Gather Pace Even as Jobless Rate Climbs
Higher Wealth Begets Higher Returns in Norway: Eco Research Wrap
Colombia Won't Leap-Frog Portugal for Decades, Cardenas Admits