Carney Keeps BOE Rate Hikes on Agenda in Face of Brexit Risk
(Bloomberg) -- Mark Carney won't rule out raising interest rates again before he leaves the Bank of England next June, though he acknowledges that Brexit could change everything.
After the BOE raised its key rate on Thursday, some businesses and economists blasted policy makers for being too hasty in acting before Britain knows what deal -- if any -- it can strike with the European Union. Carney's message as governor is that there's no reason to deviate from gradual tightening.
"The important thing is that this is the right decision for the economy given the track that it's on," he told Bloomberg Television's Francine Lacqua in an interview. "Certainly there could be circumstances where it would make sense to adjust policy. But I think we'll all know what those circumstances are on the Monetary Policy Committee, and at that point we'll take them into account."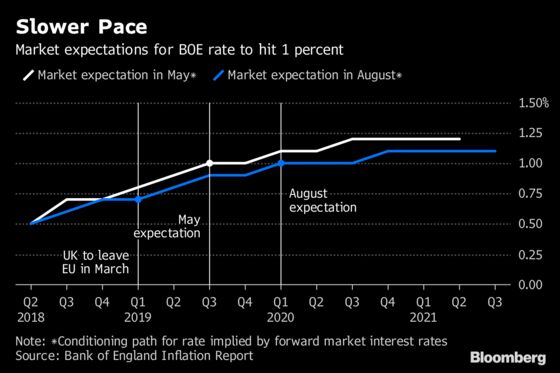 Still, Carney said in a BBC Radio interview on Friday that the risk of dropping out of the EU without a deal is "uncomfortably high" and that a disorderly Brexit is "highly undesirable."
The BOE has so far opted to work on the assumption that Brexit will be smooth, which means the U.K.'s economic expansion will continue and tight labor markets and limited spare capacity will put upward pressure on prices.
On that basis, policy makers lifted rates for only the second time since the global financial crisis, to 0.75 percent, and Carney said he expects a few more hikes over the next few years. His term finishes at the end of June 2019, three months after the U.K. is set to formally leave the EU.
"There's a good chance they'll go once more before Carney's term ends," said Hetal Mehta, an economist at Legal & General Investment Management. "There's a decent chance they'll try and do one hike in May on the basis there's a transition period that kicks in following the official Brexit date in March. They'd probably try to normalize policy if they can."
Some economists say the BOE could move again earlier than markets are expecting. David Owen at Jefferies said the bank may hike again as soon as November, while JPMorgan's Allan Monks sees the next increase in February.
What Our Economists Say

"We still think all options, including a no-deal Brexit, remain on the table. We expect that to be the key reason for the BOE to keep interest rates on hold until after March 2019. The slowdown in inflation, despite a fall in unemployment below 4%, will also give the MPC room to pause. We don't expect another move in rates until May 2019."

-- Dan Hanson and Jamie Murray, Bloomberg Economics.

For more, see our U.K. REACT 
Should conditions deteriorate as EU and U.K. officials struggle to resolve key sticking points, Carney might find his latest rate hike was his final one. The risks were highlighted again on Friday by fresh data showing the U.K. services sector grew at a slower pace than forecast in July, with companies saying Brexit may be holding back projects.
"There's a pretty good chance it'll be his last," said Andrew Goodwin, an economist at Oxford Economics. "The story they're telling about driving up wages and inflation hasn't borne out so far and it won't in the next year either. It'll be difficult to justify hiking."
If so, this could be the last rate increase Carney pushes through in any role. The former Bank of Canada head hasn't said whether he'll remain in central banking after he leaves the BOE and has remained coy when asked about his future, deflecting questions about whether he will definitely return to his native country.
He also shows no sign of wanting to stay any longer at the BOE. He's already extended his planned five-year term by 12 months to help guide the economy through the Brexit negotiations. Asked if he'd do so again, he said talks have to conclude well before his term is up and "nothing's changed" about his plans.
Read more:

How Mark Carney Is Preparing for Brexit and the Next Crisis
In an unexpected sign of how united the nine-member policy committee is around the need for higher rates at this time, Thursday's decision to raise was unanimous. But that doesn't mean that the MPC's current view won't be reshaped by new developments.
"There's a possibility for one more move before he leaves the scene, but it's not by any means a done deal," said Peter Dixon, an economist at Commerzbank AG. "The likelihood is the bank will revisit in May, once the Brexit deadline has passed -- and assuming the economy hasn't fallen off a cliff."