Looking for a Pay Rise in Britain? Change Jobs, Economists Say
(Bloomberg) -- Britons looking for that ever-elusive raise might want to change their job.
Pay growth for those moving to a new employer in the past year topped 10 percent for the first time in over a decade, the Resolution Foundation said in a report published Thursday. For those who stay put -- the vast majority of workers -- wages are rising just 2.5 percent, close to the rate of inflation and well below the pre-crisis average of over 4 percent.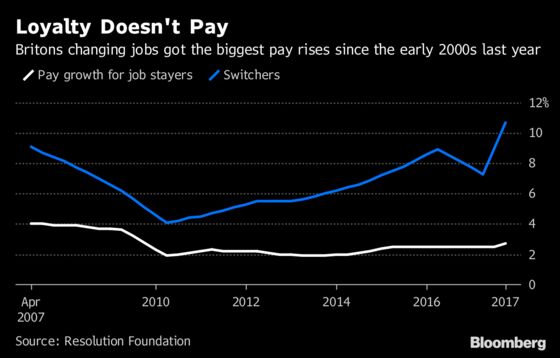 It means Bank of England officials, who are widely expected to announce an interest-rate hike Thursday, are facing a varied picture when it comes to the labor market. Their decision hinges on whether they judge there is spare capacity remaining, or that poor productivity growth, which has depressed wages, means the economy is now running up against its reduced speed limits.
Pay growth overall is set to remain around its current level of 2.7 percent in the coming months, the Resolution Foundation said.
"The evidence on the key issue of pay pressure is decidedly mixed," said Senior Economic Analyst Stephen Clarke. "While overall pay growth remains weak, interest-rate hawks may take the view that, bad as it is, this is still as good as it gets. Those holding off on rate rises may take the view, however, that recent small upticks in pay pressure mean that things can only get better."
The think tank highlighted varying levels of underemployment. While the overall rate has almost returned to its mid-2000s low, it remains "elevated" among women and younger workers, who are working fewer hours than desired. The pace of workers switching jobs, an indicator of employee confidence, has risen but remains a fifth below its pre-crisis average, it said.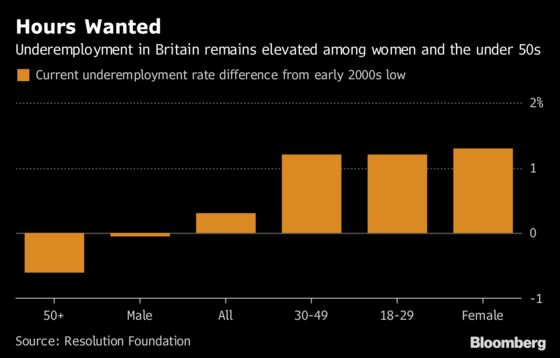 A separate report by the British Chambers of Commerce and job-search website Indeed said that half of businesses are set to give pay rises of 2 percent or more in the next year. The government's relaxation of the cap on public-sector wages will also help.
"It appears organizations are feeling more confident despite continued uncertainty," said Tara Sinclair, economist at Indeed. "The question now is, will they raise wages enough to continue to outpace price rises?"