Bonds Climb in India as RBI Keeps Neutral Stance After Rate Hike
(Bloomberg) -- Indian bonds rallied as the central bank kept its neutral policy stance, signaling that its second rate hike this year isn't the start of an extended tightening cycle. The rupee also advanced.
The Reserve Bank of India raised the repurchase rate by 25 basis points to 6.50 percent, a move expected by 40 of 53 economists in a Bloomberg survey. The increase in interest rates is consistent with the neutral stance of monetary policy, it said in a statement in Mumbai.
In the run up to Wednesday's policy, fund managers had turned bullish on shorter-maturity notes amid uncertainty about the pace of tightening by the RBI and risk aversion spurred by a global trade war. Ten-year sovereign debt may become attractive again with traders ruling out further rate hikes in 2018.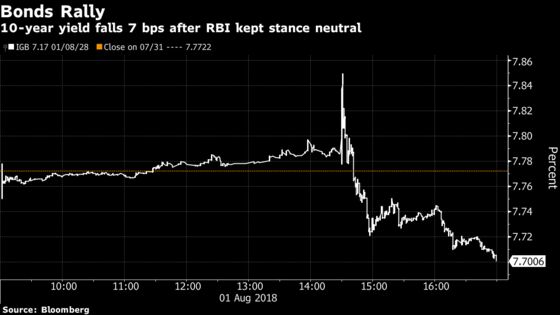 "The neutral stance and a sense that the RBI may take a pause at least in next policy is driving the upbeat mood," said Naveen Singh, head of fixed-income trading at Mumbai-based ICICI Securities Primary Dealership Ltd. "Buy-on-dips trade will continue and we may see the 10-year yield falling to 7.60 percent by end-September."
Benchmark yields dropped seven basis points to 7.70 percent, the lowest close since May 8. The yield briefly spiked as much as eight basis points to 7.85 percent just after the announcement. The rupee added 0.2 percent to 68.43 per dollar.
The monetary policy committee noted that while domestic economic activity has continued to sustain momentum, the uncertainty around inflation needs to be monitored amid elevated oil prices, according to an RBI statement. The central bank raised its inflation projection for the second half of the fiscal year to 4.8 percent from 4.47 percent previously, well above its medium term target of 4 percent.
"We have been away from" that target for several months now and back-to-back hikes were to "maximize our chances that we don't drift away," Governor Urjit Patel said in Mumbai.
Wednesday's gains may not sustain, given the looming supply of government debt, according to Nomura Holdings Inc.
"Concerns about fiscal is a key risk to bonds as debt supply will be heavy in the second half, which will weigh on long-end bonds," said Vivek Rajpal, a rates strategist at Nomura in Singapore. Ten-year debt will struggle to move below 7.60 percent, he said.