China Junk Bond Bargains Tempt Aberdeen to Increase Exposure
(Bloomberg) -- As concerns mount about the debt of Chinese developers facing a wall of maturities, a European fund giant says it's a good time to dive in.
Aberdeen Standard Investments Ltd. is finding bargains in the offshore junk bonds of Chinese companies, especially property developers, as it expects the nation's stimulus measures to continue improving conditions. The $779 billion asset manager added to its exposure in the second quarter as it found valuations attractive, according to Paul Lukaszewski, Singapore-based head of Asian corporate debt and emerging-market credit research.
"Offshore Chinese bonds went from being a very expensive asset class for the last three or four years to one of the more attractively priced over the course of the first half of 2018," Lukaszewski said in an interview in Sydney. "We expect to see a loosening of policy in the second half of the year given the slowing growth trajectory as well as the probable knock-on effect of trade tensions escalating."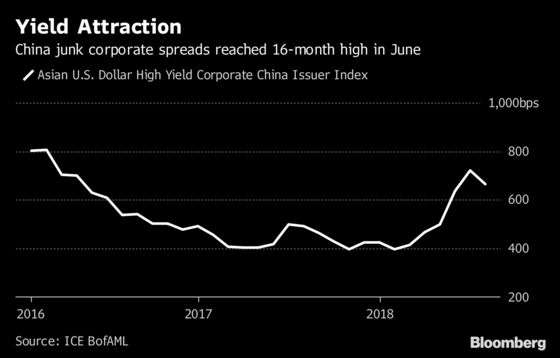 China's central bank has rolled out a raft of measures to aid growth over the last few weeks.
"The problem has been that financial conditions tightened up and investors were becoming uncomfortable in terms of companies' ability to access credit to refinance," Lukaszewski said. "Slowly but surely the policy steps are coming to address this."
The moves are encouraging Chinese builders to slowly make their way back into the U.S. dollar bond market. Yuzhou Properties sold more of its 2021 notes last week after Agile Group Holdings tapped investors for another $400 million of similar-maturity debt. Sunac China Holdings also returned to the market having raised $1.1 billion in April.
Nikko Asset Management said it reduced some of its underweight positions in Chinese developers during the sell-off. The nation's builders remain one of the safest places to be invested in Asia's U.S.-dollar high-yield bond market, according to Leong Wai Hoong, a senior money manager at Nikko Asset.
A rally in Asian dollar bonds in recent weeks has helped cut Chinese companies' borrowing costs. The average yield for China's speculative-rated notes was at 9.4 percent Tuesday, according to ICE BofAML indexes. Yields rose to 10.6 percent on July 12, the highest in more than three years.
"If Chinese are concerned about slowing exports, the natural response will be to shore up the property sector, which is a very meaningful contributor domestically," Lukaszewski said. "There are some Chinese property developers with good metrics and outlook that have repriced to levels that we thought were irrational, so we were comfortable increasing exposure. I see further room for things to improve."