Spain Loses Steam as Socialist Premier Faces Deadlock
(Bloomberg) -- The Spanish economy unexpectedly slowed in the second quarter, a period that also saw the Socialist party take power in an abrupt change of government.
Output expanded 0.6 percent in the three months to June, the National Statistics Institute said on Tuesday. That missed the 0.7 percent median estimate in a Bloomberg survey and is the weakest since 2014. Growth in household consumption, a leading driver of the recovery, slowed by more than half.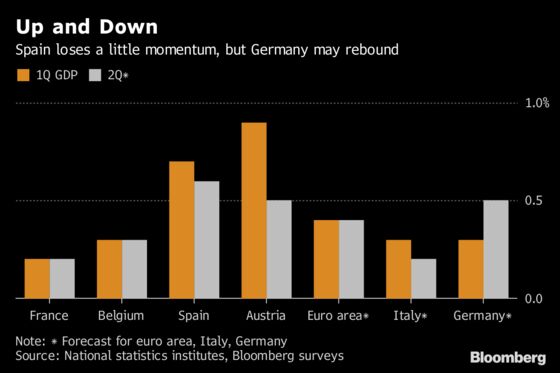 While still outperforming its euro area peers, Spain's economy is heading into a cooler phase of growth after an expansion that topped 3 percent for three years in a row. Any signs of a sharper slowdown may prove a challenge for the new Socialist Prime Minister Pedro Sanchez whose economic plan faces a tough passage through parliament where he lacks a majority.
"The Spanish economy is holding on, but we're entering a slowdown," said Angel Talavera, economist at Oxford Economics. "Consumption was disappointing and exports saw a significant drop. We see growth stalling in this range for the rest of the year."
The data precedes a string of European indicators on Tuesday that will provide an overview of the economy at a time of risks including global trade tensions and Brexit.
| Time (CEST) | Data | Actual/Forecast | Prior Month |
| --- | --- | --- | --- |
| 09:55 | German unemployment (July) | 5.2% | 5.2% |
| 10:00 | Italian unemployment (June) | 10.9% | 10.7% |
| 11:00 | Euro-area unemployment (June) | 8.3% (f) | 8.4% |
| 11:00 | Euro-area inflation (July) | 2% (f) | 2% |
| 11:00 | Euro-area core inflation (July) | 1% (f) | 0.9% |
| 11:00 | Euro-area GDP (2Q)  | 0.4% (f) | 0.4% |
| 11:00 | Italian inflation (July) | 1.4% (f) | 1.4% |
| 12:00 | Italian GDP (2Q) | 0.2% (f) | 0.3% |
In addition to GDP and inflation numbers for the region, one number to watch will be Italian output as the new populist government pushes its agenda with a budget due after the summer. The economy, the third largest in the euro zone, is forecast to have grown just 0.2 percent in the second quarter, which would be the weakest in almost two years.
For 2018 as a whole, Italy is seen expanding 1.3 percent, far below the 2.8 percent prediction for Spain and the euro-area average of 2.1 percent.
In Spain, the Socialist government is facing an uphill task to approve its budget plan for 2019. Parliament last week rejected Sanchez's looser deficit reduction goal -- a first step toward drafting a budget -- in a sign of the weakness of his government.
With just 84 seats in the 350-member parliament, Sanchez will face mounting calls for new elections if he can't demonstrate he can pass key legislation. Under its spending plan, the government expects the deficit to come in at 2.7 percent of output this year. That's below the European Union's 3 percent limit, but still higher than the previous target of 2.2 percent.