Give StanChart's Turnaround Some Credit
(Bloomberg Opinion) -- Come on, guys. Time to give Bill Winters' Standard Chartered Plc a break.
First-half earnings show the trade-focused bank's turnaround is on a firm footing. Naysayers drove down StanChart stock even more than that of close competitor HSBC Holdings Plc this year on concern that the U.S.-China tariff dispute would drag on profit. They should sit up and take notice.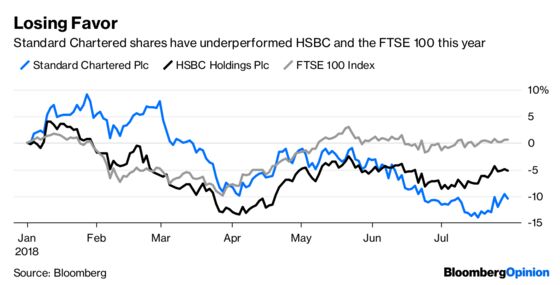 StanChart posted a market-beating 34 percent gain in first-half-pretax profit to $2.35 billion, recorded its highest operating income since Winters took over as CEO in 2015, and lifted return on equity to 6.7 percent, coming closer to its medium-term target of 8 percent. The London-based bank also resumed its interim dividend, extending a payout plan that started with full-year earnings in February.
Crucially, the lender also looks to be making progress in tamping down bad-loan risks. Winters said StanChart has raised annual spending on financial crime compliance almost 10-fold since 2012 and lifted headcount in that area sevenfold. Before the former JPMorgan Chase & Co. banker arrived in 2015, StanChart had developed an anything-goes reputation for lending to tycoons in Southeast Asia and India, leading to some painful bad-debt issues.
The bank has also replaced its head of compliance, though the choice of its head of corporate affairs, brand and marketing to fill the role may raise questions with some. StanChart has agreed to remain under the scrutiny of the U.S. Justice Department until the end of this year after breaching Iran sanctions rules in 2012.
With compliance headaches receding, there are now two trends in its favor: higher rates, and China's foreign policy.
A heady IPO market is driving up Hong Kong's interbank rate, the benchmark for most loans in the city. If that persists, net interest margins should keep rising at StanChart and HSBC.
And as we've noted previously, heavy exposure to China's belt-and-road initiative will act as a buffer from the trade war. StanChart is present in 47 of the 60-65 belt-and-road target countries, versus 44 for HSBC. 
In the words of Group Chairman Jose Vinals, the bank generates "far more income financing commerce between China and other markets in our footprint'' than between China and the U.S. That footprint covers more than 70 countries, of which more than half are in Asia, Africa and the Middle East.
In short, less trade between the world's two biggest economies won't be a problem for StanChart as long as it means more transactions between countries where the bank has an edge, which also happen to be those that belt-and-road is aimed at boosting.
Even a bursting of Hong Kong's real estate bubble doesn't look much of a risk. The city made up 37 percent of StanChart's retail banking mortgage portfolio in the first half, but loan-to-value levels were a low 35.4 percent, which should provide comfort against the possibility of defaults.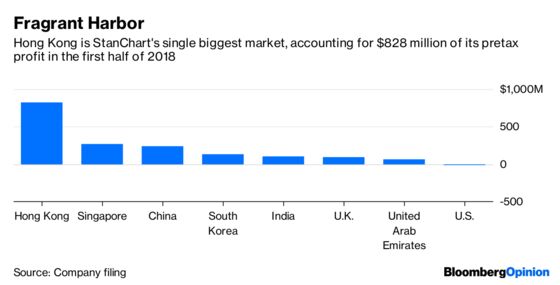 The test for StanChart will be to keep revenue growing without falling into past bad loan traps or allowing costs to rise too much. It must also make the shift to digital, as Hong Kong prepares to allow online-only banks. Efforts so far, such as tie-up with Jack Ma's Ant Financial for a blockchain-based money transfer service, may not be enough to keep fledgling rivals at bay.
With interest rates climbing, asset quality improving and revenue recovering, StanChart should be a good news story. The question is whether the market is ready to recognize that.
This column does not necessarily reflect the opinion of the editorial board or Bloomberg LP and its owners.
Nisha Gopalan is a Bloomberg Opinion columnist covering deals and banking. She previously worked for the Wall Street Journal and Dow Jones as an editor and a reporter.