German Unemployment Keeps on Falling as Bottlenecks Tighten
(Bloomberg) -- German unemployment extended its decline as companies hired workers to expand production capacity.
The figures are further evidence that while some German companies have warned about the impact of increased global trade tensions, most of the economy is still running strong. Momentum in the private sector picked up in July amid strengthening manufacturing, and the strongest confidence in services since 2011 propelled a gauge for economic sentiment to a five-month high.
The Federal Labor Agency in Nuremberg said on Tuesday that the number of people out of work declined by a seasonally adjusted 6,000 to 2.338 million. The jobless rate held at a record low of 5.2 percent.
With capacity utilization running at 88 percent, close to a record, many businesses are looking to invest. Daimler AG is planning to increase its Mercedes-Benz battery-production sites for electric cars, with plants in Sindelfingen and Untertuerkheim earmarked for the project.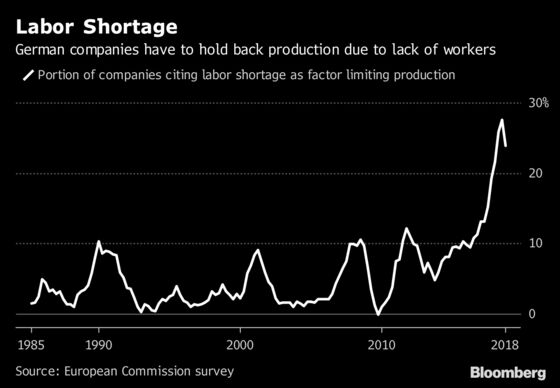 Eastern Germany, where unemployment is some 2 percentage points higher than in the western part of the country, is set benefit from a new factory to be built by a Chinese battery maker. Contemporary Amperex Technology Ltd. will spend some 240 million euros ($293 million) through 2022 on a plant close to Erfurt, creating about 600 jobs.
The Bundesbank has cited Germany's "excellent" labor-market situation and increasingly strong wage growth as a reason why private consumption will remain an important pillar of growth. The institution predicts the economy will expand 2 percent this year after 2.2 percent in 2017.
In the euro area, unemployment probably fell to 8.3 percent in June, according to the median estimate in a separate survey before data later on Tuesday.