Chinese Investors Flee Into Money Market Funds From Stocks
(Bloomberg) -- Chinese investors flocked into money-market products at a rate outpacing equities and bonds last quarter, adding to what is already the biggest segment of the nation's mutual fund industry.
Mutual funds investing in low-risk, short-term debt instruments grew 5.4 percent last quarter to 7.7 trillion yuan ($1.1 trillion), compared to the 3.7 percent increase in bond funds and a drop of 1.3 percent in equity funds, data compiled by the Asset Management Association of China show.
After a shadow banking crackdown shrank the pool of investment products in China, money market funds are seen as a safer investment as trade war uncertainties weigh on stocks, while offering returns close to those of bonds. While Chinese equities have rebounded from their lows and corporate notes jumped last month amid a government shift toward easing, analysts say money-market funds will continue to be attractive to retail investors.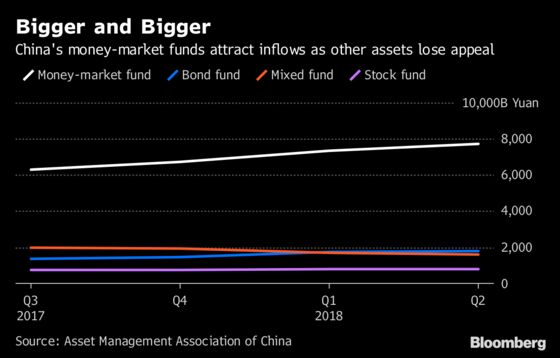 "Money market funds offer high risk-adjusted returns and provide good liquidity to retail investors," said Huang Li, a Shanghai-based fund analyst at Fitch Ratings. "Annualized returns of around 4 percent, against the backdrop of poor performances in stocks and bonds this year, is very attractive. This relative value isn't likely to change much for the rest of the year."
China's money-market funds have nearly doubled in size from 2016, making it the world's second-largest market behind the U.S., according to UBS Asset Management. Money-market funds accounted for 61 percent of the nation's mutual funds at the end of June, data from the association showed, with China International Capital Corp. estimating individuals account for more than half of that investment. Money market funds account for just 12 percent of mutual funds globally, according to Fitch.