Stocks Mixed, Treasuries Decline as Fed Stands Pat: Markets Wrap
(Bloomberg) -- U.S. stocks were mixed as worsening trade tensions between the world's two largest economies stung manufacturers while tech shares rallied on the back of a positive earnings report for Apple Inc.
The yield on 10-year Treasuries touched 3 percent for the first time since June and stayed at that level after the Federal Reserve held borrowing costs steady while signaling its intention to raise rates amid robust economic growth, as analysts had predicted. The S&P 500 Index edged lower, bogged down by industrial companies that would bear the brunt of expanded tariffs, while the tech-heavy Nasdaq Composite Index climbed as Apple jumped to a record.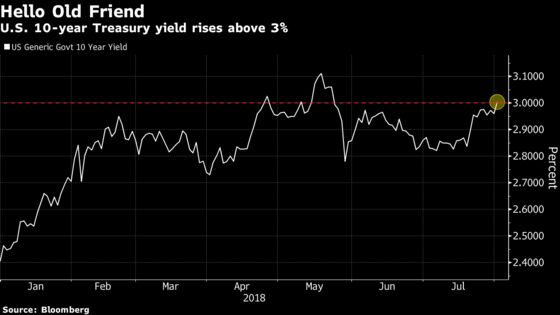 The Trump administration's unpredictability on trade has been in the spotlight in the last 24 hours after reports that talks between Washington and Beijing were set to resume were quickly overtaken by a threat to raise tariffs. As investors weigh the impact of the trade dispute, Fed Chairman Jay Powell is trying to nurture the second-longest U.S. expansion on record by slowly reducing the amount of support that monetary policy provides to growth.
"Powell wants to provide a clear and consistent message to markets on the policy outlook and not be swayed by short term data or the ebb and flow of markets," said James McCann, senior global economist at Aberdeen Standard Investments. "Investors understand where Powell's focus is, so they will largely shrug off today's statement."
Elsewhere in markets, Shanghai stocks finished sharply lower and the Stoxx Europe 600 Index slid. Emerging-markets currencies and shares were steady.
Terminal users can follow our Markets Live blog here.
Here are some key events coming up this week:
Earnings season continues with Berkshire Hathaway, Barclays, Tesla, Toyota and BMW among companies reporting results.
Central banks in the U.K., Brazil and India are still to meet this week. The Bank of England is expected to hike even amid Brexit gloom. Brazil's central bank is seen standing pat. The RBI will probably raise its benchmark at its meeting Wednesday.
The U.S. jobs report is on Friday, and is predicted to show a healthy labor market, with 190,000 new jobs.
These are the main moves in markets:
The S&P 500 Index fell 0.1 percent as the close of trading in New York.
The Nasdaq Composite index rose 0.5 percent.
The Stoxx Europe 600 Index dipped 0.5 percent to the lowest in a week.
The MSCI Emerging Market Index fell 0.1 percent.
The Bloomberg Dollar Spot Index rose 0.1 percent.
The euro slipped 0.3 percent to $1.1661.
The British pound was little changed at $1.3123.
Japan's yen fell 0.2 percent to 111.64 per dollar.
The yield on 10-year Treasuries rose four basis points to 3 percent, the highest in 10 weeks.
Germany's 10-year yield rose three basis points to 0.47 percent, the highest in seven weeks.
Britain's 10-year yield climbed five basis points to 1.38 percent, the highest in seven weeks.
The Bloomberg Commodity Index fell 1.3 percent to the lowest in more than a week.
West Texas Intermediate crude fell 1.4 percent to a two-week low of $67.81 a barrel.
Copper tumbled 3.3 percent, the most in two weeks, to $2.738 a pound
Gold declined 0.6 percent to $1,216.34 an ounce.