Ahead of Key Talks, Trump Says U.S., EU Must Cut All Tariffs
(Bloomberg) -- President Donald Trump said that the U.S. and the European Union should eliminate all tariffs, barriers and subsidies, with the bloc's trade chiefs set to present him with proposals in that direction in a crunch meeting at the White House later Wednesday.
"I have an idea for them. Both the U.S. and the E.U. drop all Tariffs, Barriers and Subsidies!" Trump said in a Tuesday night tweet. "That would finally be called Free Market and Fair Trade! Hope they do it, we are ready - but they won't!"
European Commission President Jean-Claude Juncker and EU Trade Commissioner Cecilia Malmstrom are due to meet with Trump in Washington on Wednesday. They plan to signal the bloc's willingness to negotiate a bilateral trade agreement with the U.S. on manufactured goods, or a so-called plurilateral sectoral agreement between all major car exporters which would cut or eliminate tariffs on automobiles globally.
The overtures are a last-ditch attempt to dissuade him from imposing tariffs on European car exports to the U.S., in what could deal a serious blow to the 28-nation bloc's economy. The Stoxx 600 Automobiles & Parts Index fell by 1.4 percent at 1:03 p.m. in Brussels ahead of the meeting.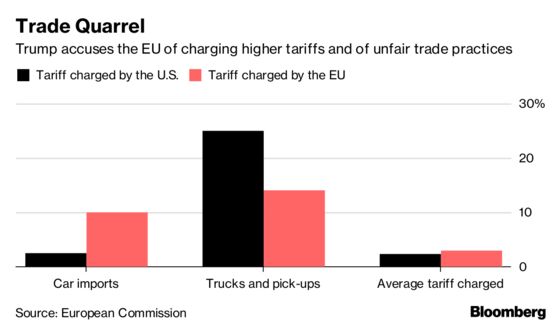 "We are here to explain and find out how to prevent a trade war," Juncker said in an interview with German public broadcaster ZDF before the meeting, adding that he's not overly optimistic. The EU is prepared to retaliate "immediately" if talks fail, he warned.
The commission, which manages trade relations on behalf of all 28 nations in the EU, is preparing a list of retaliatory measures on American goods worth $20 billion should the U.S. impose car tariffs, Malmstrom said. "It would be more general, like farming goods, machines, high-technology products and others," she said in an interview with Swedish newspaper Dagens Nyheter.
Highlighting the complexity of Wednesday's talks, hours before Trump called for the elimination of all tariffs he tweeted that "tariffs are the greatest." He has also singled out the EU as a "foe" of the U.S. because of its trade surplus, and hinted that America's commitment to the continent's security is contingent on resolving the spat over tariffs.
The euro and shares in European auto exporters could drop if the Washington talks result in "further escalation of the U.S.-EU trade tensions, with President Trump sticking to his threat of additional tariffs on EU car exports and the EC President Junker threatening to retaliate," Credit Agricole analysts led by Valentin Marinov said in a note.
Analysts caution that worse may be yet to come. Trump's announcement of plans to provide $12 billion in aid for U.S. farmers suffering from tariffs suggest that "Trump is preparing for the long haul," said Martin van Vliet and Benjamin Schroeder of ING Bank in Amsterdam.
"With Trump having called the EU a 'foe' recently and his assertion that he was 'playing with the bank's money,' any quick resolution in this high stakes standoff would come as a surprise," they said.
Trump's demand to eliminate subsidies may add a further complication in the talks, as agricultural aid has been a pillar of the EU since its creation, making cuts to European farm grants politically sensitive and explaining why policy revamps in the bloc have been done gradually over 20 years.
More generally, global tensions over agricultural trade have pitted rich countries such as the EU and the U.S. keen to protect their farmers against poorer nations seeking better access to prosperous markets. At the level of the World Trade Organization, talks on lowering barriers to farm commerce have traditionally been among the most contentious.
Trump's tweet on subsidies came hours after the announcement of plans to deliver $12 billion in aid to farmers. Extra assistance would be a balm to American producers who are seeing prices drop and inventories rise because of disputes with China, Canada and other trade partners who are significant purchasers of U.S. pork, soybeans and other crops.
"Trump is making clear with the subsidy that he isn't going to back off," Rabobank analyst Michael Every said in a note. "Rather, he's settling in for a slug-fest economic war of attrition until he gets the deal he wants."