Trump Tells EU's Juncker He Seeks 'Reciprocal' Trade
(Bloomberg) -- President Donald Trump told European Commission President Jean-Claude Juncker that he seeks "reciprocal'' trade as they opened talks with the threat of new U.S. auto tariffs looming.
Trump said he hoped for a "very positive" outcome from meeting with Juncker but complained of "massive tariffs" and "massive barriers" at the start of discussions at the White House between the two leaders on Wednesday. As a result, he said, the U.S. is "losing hundreds of billions of dollars" to the E.U.
"We have to follow," Trump said. "You could call it retaliation, but I'd rather just say that we want reciprocal."
Juncker came to Washington for a last-ditch bid to avoid U.S. tariffs on cars and pull both sides back from an escalating trade war.
"We are close partners, allies, not enemies," he told the president. "We should focus on reducing tariffs not increasing them."
Trump said he would be "extremely pleased" if there were "no tariffs and no barriers and no subsidies." Trump has complained that European tariffs and subsidies are too high.
Trump could impose car tariffs on national security grounds once Commerce Secretary Wilbur Ross completes a required investigation and presents the president with options on how to adjust imports. Trump already has placed duties on steel and aluminum products on the same grounds.
Auto tariffs at the level Trump has threatened would add about 10,000 euros ($11,700) to the sticker price of a European-built car sold in the U.S., according a European Commission assessment obtained by Bloomberg News last month. That would cut U.S. imports of European cars and car parts in half, the commission forecast.
Juncker and and EU Trade Commissioner Cecilia Malmstrom planned to signal the bloc's willingness to negotiate a free-trade deal between the EU and U.S. on manufactured goods, or an agreement among all major car-exporting nations that would cut or eliminate tariffs on automobiles globally. Still, Europe has prepared $20 billion in retaliatory measures if Trump follows through with his threat.
White House economic adviser Larry Kudlow said on Fox Wednesday that a one-on-one meeting between Trump and Juncker is "going to be absolutely crucial," but that expectations "are so low" that there may be an upside to the outcome.
Hours before the meeting, World Trade Organization Director-General Roberto Azevedo called for an urgent response from supporters of international trade to prevent an "eye-for-an-eye" approach that risks wrecking the international economic system that has been in place since World War II.
"The worst-case scenario for the global economy, for the consumer, for everyone on the surface of the Earth, is to have no rules, to have the law of the jungle," Azevedo said Wednesday during a press conference at WTO headquarters in Geneva. "Investors will pull back, the economy will lose steam and jobs will be lost -- millions of jobs will be lost."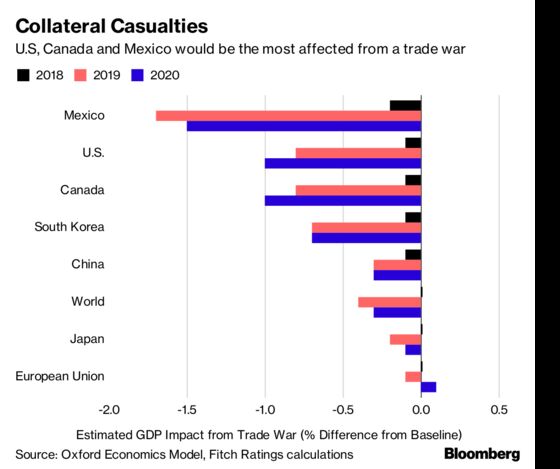 Trump on Tuesday moved to buck up a key political constituency against financial losses from a trade conflict with a plan to offer as much as $12 billion in extra aid to U.S. farmers. The payments would benefit producers who are seeing prices drop and inventories rise because of disputes with China, Canada and other trade partners who are significant purchasers of U.S. pork, soybeans and other products.
Trump has lit into critics of his tariffs, saying discord -- some from Republicans in Congress -- undercuts his ability to put pressure on foreign governments.
"When you have people snipping at your heels during a negotiation, it will only take longer to make a deal, and the deal will never be as good as it could have been with unity," Trump said on Twitter on Wednesday. "Negotiations are going really well, be cool. The end result will be worth it!"
House Speaker Paul Ryan is among several Republicans who have spoken out against Trump's trade agenda.
"I just don't think the tariff route is the smart way to go," Ryan told reporters on Tuesday. Ryan added that while Trump is seeking "a better deal for Americans, better trade agreements -- I just don't think tariffs are the way to go, and our members are making that pretty clear."
Trump has been critical of the EU over its $150 billion trade surplus with the U.S. But Europe is only one front in Trump's attacks on trading partners. Earlier this month, the president imposed 25 percent tariffs on $34 billion of Chinese goods, with similar penalties on an additional $16 billion worth of products is expected to go into effect shortly. Trump has threatened levies on an additional $200 billion of Chinese products as early as next month.