Chinese Spygear Titan's Ready to Recover $11 Billion Market Loss
(Bloomberg) -- Hangzhou Hikvision Digital Technology Co. has bled $11 billion of market value since U.S. tensions and concerns about a slowing Chinese economy knocked it off a March peak. Now, the world's largest maker of surveillance equipment is counting on smarter robotic devices to more than recoup those losses.
Hikvision -- pronounced "Hike-vision" in deference to its Chinese name -- had for years cashed in on the country's obsession with monitoring its citizens for everything from traffic shenanigans to acts of terrorism. Despite its months-long decline, it's still earned a valuation on par with some of the world's largest technology corporations including Alphabet Inc. and Facebook Inc. -- before the U.S. social media firm's Wednesday post-market plunge.
The world's largest maker of spy gear remains the dominant player in a global video surveillance hardware arena projected to grow 10 percent to $18.5 billion this year, according to IHS. It had at one point been pricier than even e-commerce leader Alibaba Group Holding Ltd. -- and could be again. Analysts are betting the government and corporate clients it's won from Xinjiang to Milan will upgrade to next-generation gadgets infused with AI, sustaining growth and boosting its bottom line.
Analysts, of which 29 of 30 rate the company a buy or outperform, are calling for a rally of more than 30 percent over the coming year. On Thursday, Hikvision's stock rose as much as 2.2 percent in early trade.
"AI is more related to the software analytics capability that the company is providing and has a higher technology barrier. It's more than just selling the hardware," said Rex Wu, an analyst with Jefferies. "That's why investors like the company and gave it a higher valuation."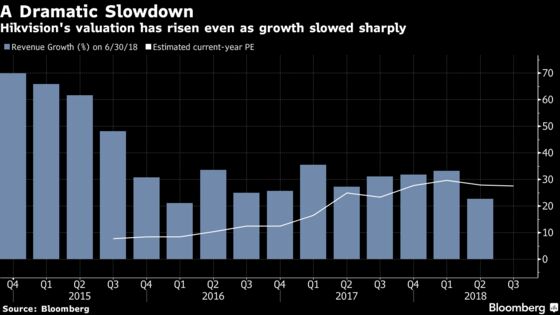 Foreign investors have long been enamored of Hikvision, whose shares more than doubled between December 2016 and March, as they bought its Shenzhen shares through a stock connect link with Hong Kong.
The four-month stock decline has now pushed the company's estimated earnings multiple to 27 times. That's still more expensive than Apple Inc. and at the high end of its peers. But it also enjoys a higher return on equity than 93 percent of similar global hardware firms, and its estimated three-year average sales growth of 27.5 percent is about twice its industry's mean, according to data compiled by Bloomberg.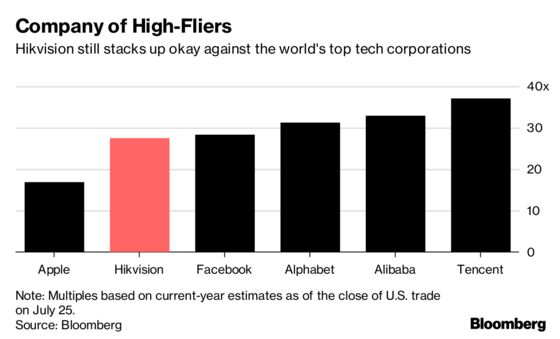 Hikvision doesn't have a global counterpart close to its scale and it so dominates the Chinese scene that its closest rival, Zhejiang Dahua Technology Co., is less than a fifth its size. But that reliance on its home market may count against it in the short run. On Monday, executives warned -- after reporting its slowest revenue growth in more than two years -- that a nationwide campaign to curtail debt was crimping government spending. That prompted Morgan Stanley and at least two other brokerages to trim their price targets.
"Investor concerns mainly relate to domestic market growth," Yunchen Tsai and Tony Shen, analysts with Morgan Stanley, wrote after the results while maintaining their overweight rating. But "we anticipate additional sustainable revenue growth, mainly from AI products and new business ramp-up, both of which carry higher gross margins."
The other big worry centers on an overseas business that contributes roughly 30 percent of sales. Intensifying scrutiny from the U.S. and Europe on Chinese firms with ties to Beijing may discourage new clients. In April, Washington slapped a moratorium on ZTE Corp.'s ability to buy American components, almost shutting the telecoms gear maker and reminding investors of growing suspicions surrounding Chinese technology.
Hikvision's global reach however may help it weather short-term U.S. ructions, including tariffs arising from ongoing trade tensions.
"The tightening government expense budget and China's deleveraging moves made this year's macro environment worse than the year before," said Peng Xi, an analyst with Hua Tai Securities Co. "But there are still bright spots in its performance, such as the increase in gross profit and the wider product availability in overseas markets."