Pompeo on Firing Line as Senators Demand Answers on Russia, NATO
(Bloomberg) -- U.S. Secretary of State Michael Pompeo will find one of his rare appearances on Capitol Hill rough going Wednesday as he seeks to soothe the ire of senators exasperated by President Donald Trump's strategy on everything from Russia and NATO to North Korea.
As bipartisan fury over Trump's summit with Vladimir Putin last week reverberates in Washington, Pompeo will hear from senators demanding to know what happened during the president's one-on-one meeting with the Russian president, what Trump meant when he called the European Union a "foe" and whether the U.S. is being duped again by North Korea.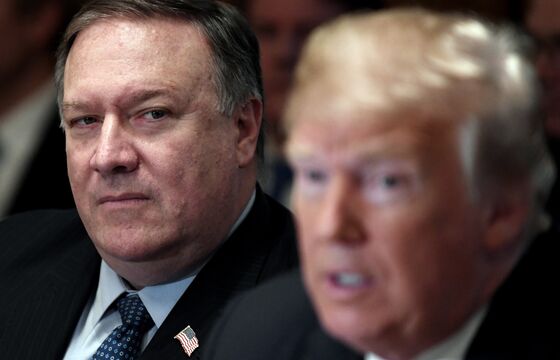 "The question is: What the heck do you think you're doing?" said Heather Hurlburt, director of the New Models of Policy Change project at New America, a Washington think tank. "I'm finding it very difficult to find clever, original things to say other than this is unprecedented, astonishing and hard to fathom regardless of one's ideological starting place."
Pompeo's earlier appearances before lawmakers weren't so fraught. The former CIA director and House member was greeted with relief because he replaced Rex Tillerson, who had little support in Congress or his own department by the time Trump fired him via Twitter in March. And Pompeo, who took over at the State Department in April, had some early successes engaging with North Korea's Kim Jong Un and winning freedom for three Americans detained there.
Those days are over. From the moment Trump's news conference alongside Putin ended on July 16, Republican and Democrats have found common ground in efforts to rein in the president's apparent desire to forge better ties with Russia without confronting Moscow over election meddling.
Republican Senator Lindsey Graham and Democrat Bob Menendez said they'll introduce legislation to increase U.S. sanctions against Russia that would target its sovereign debt as well as the country's energy and financial sectors.
While the president tweeted as recently as Tuesday that "no President has been tougher on Russia than me," Congress produced the most severe sanctions yet against Russia without White House support. Trump's willingness to entertain having Russian investigators visit the U.S. to watch interviews of American officials -- including a former ambassador to Moscow -- was so roundly opposed that the Senate passed a resolution 98-0 expressing its disapproval.
Even as Trump continues to proclaim the Helsinki summit with Putin a "great" success, his top aides haven't explained what was agreed to when the president met alone with Putin, leaving Russian officials to fill the vacuum. And he's been almost alone in defending remarks -- since walked back -- that he viewed Putin's denials of interfering in the 2016 election as more credible than evidence compiled by U.S. intelligence agencies.
"The president must appreciate that Russia is not our ally," House Speaker Paul Ryan said after the summit. Republican Senator John McCain was more blunt: Trump's trip resulted in "one of the most disgraceful performances by an American president in memory," he said, and "no prior president has ever abased himself more abjectly before a tyrant."
Senators will have much more to ask about than Russia, however, when Pompeo appears before the Foreign Relations Committee at 3 p.m. EST.
"I'd like to find out what if anything was said in the meeting with Putin," Republican Senator Ron Johnson of Wisconsin said. "There's so many issues, though."
NATO
Trump's repeated berating of NATO allies for not spending enough on defense doesn't appear to have resulted in any additional financial commitments at the alliance's annual summit earlier this month despite Trump's boasts to the contrary. Trump's comments in the days since -- he called Montenegro "very aggressive" -- raised doubts about the U.S. commitment to defend alliance partners and maintain penalties on Russia for its annexation of Crimea.
Iran
The president ramped up his rhetoric against the Islamic Republic on Sunday, saying on Twitter that the U.S. won't tolerate Iran's "DEMENTED WORDS OF VIOLENCE & DEATH" -- a response to a warning Iran's president made to Trump. Trump's comments followed a speech by Pompeo in which he stopped just short of advocating regime change and reiterated the administration's determination to impose sanctions on countries, including U.S. allies, that don't significantly cut their imports of Iranian oil.
Pompeo has been the point man on U.S.-North Korea talks since he was at the Central Intelligence Agency. But he's had little to say since a vaguely worded declaration was signed by Trump and Kim in Singapore last month. There's still no time line for Pyongyang to disclose details about its nuclear arsenal let alone a schedule for dismantling it under the gaze of international inspectors. As Pyongyang appears to stall for time, the sanctions regime heavily touted by Trump and Pompeo is showing signs of weakening.
The secretary of state can point to some recent success: Newly released satellite photographs suggest that North Korea has begun to dismantle a satellite launch site that was considered a cover for its ballistic missile program. And estimates from South Korea's central bank show the gross domestic product in North Korea contracted 3.5 percent in the 12 months through December, the biggest drop in two decades.
The same day Pompeo is testifying, Trump will be meeting with European Commission President Jean-Claude Juncker to talk trade, another issue where many Republican lawmakers disagree with the White House. Juncker will seek to convince Trump that his threat to raise tariffs on European car imports would jeopardize a $1 trillion dollar trade relationship and 15 million jobs on both sides of the Atlantic. Meanwhile, the administration may raise tariffs on more than $200 billion in Chinese imports and a long-promised rewrite of the Nafta agreement with Canada and Mexico remains unfulfilled.
Trump has been unrepentant on the issue. "Tariffs are the greatest," he said on Twitter Tuesday morning.