Juncker Should Hope Trump Doesn't See This Chart Before Their Meeting
(Bloomberg) -- European Commission President Jean-Claude Juncker probably hopes President Donald Trump hasn't pored over the International Monetary Fund's latest study on global imbalances and trade ahead of their Washington, D.C. gathering today.
Its 150-page report this week lends some support to Trump's claim that Europe has been able to "win" on trade in part because of an undervalued currency.
The chart below shows Germany's real-effective exchange rate is weaker than implied by economic fundamentals, with a corresponding outsized current-account surplus. On the flipside, the greenback is stronger than it should be, which contributes to a swelling of the U.S. current-account deficit, suggest staff calculations at the policy lender.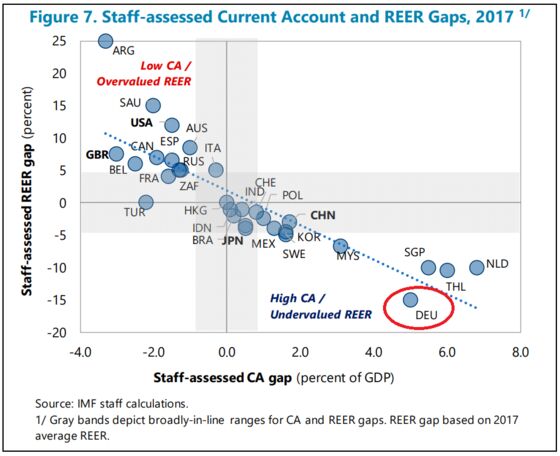 In other words, there may be some truth to the claim trade-weighted currency levels adjusted for inflation are distorted in Germany as well as the U.S.
While Junker represents the European Union as a whole, Germany is its largest economy. The lion's share of the nation's surplus is attributable to its trading relationship with countries outside the monetary bloc. To boot, Netherlands is highlighted as another country with one of the most depressed currencies and inflated current-account surpluses.
Italy and France are identified in the IMF study as having exchange rates and external balances in line with their underlying fundamentals.
The European Central Bank has a price-stability mandate, and on Friday, declined to comment on a Trump tweet accusing the EU of currency manipulation.
It all offers food for thought as Juncker and Trump meet Wednesday, with the European official aiming to head off additional trade barriers, particularly on autos.
"The euro is undervalued and the dollar, correspondingly, is one of the most overvalued currencies," Kit Juckes, strategist at Societe Generale, wrote in a note. "I wonder if that will come up in the trade conversations today?"