You Think GM's Forecast Was Bad? Look What Auto Tariffs Would Do
(Bloomberg) -- President Donald Trump is threatening to slap tariffs on all cars imported into America. If he follows through, the shock waves will reverberate around the world.
The stakes will be clear on Wednesday, when Trump meets with the head of the European Commission, Jean-Claude Juncker. Europe is trying to pull the U.S. back from the brink of a full-blown auto trade war that could hurt the bottom lines of automakers, disrupt supply chains and raise prices for consumers.
In recent weeks, investors have been focused on the potential impact of U.S. tariffs on Chinese imports, and a lower forecast from General Motors Co. Wednesday shows how duties on steel and aluminum are affecting the industry. But potential tariffs on vehicles could do even more economic damage -- more than double the amount of all other U.S. tariffs already implemented or proposed, according the International Monetary Fund.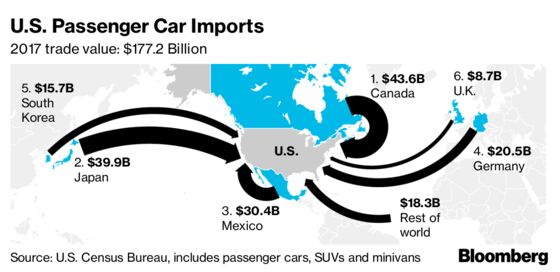 The Commerce Department is probing whether foreign cars represent a threat to America's national security. The investigation covers imports of automobiles, including SUVs, vans and light trucks, as well as auto parts. Commerce has until February to reports its findings to the president, who has the final say on whether to impose penalties, including tariffs and quotas.
Which country would take the biggest hit if the president imposes duties? A breakdown of the numbers shows that Canada and Japan exported the most vehicles by value to the U.S. last year, followed by Mexico, Germany, South Korea and the U.K.
But other countries will also likely retaliate if the U.S. imposes tariffs, causing even more economic damage. Canada, China and Germany imported the most American cars last year.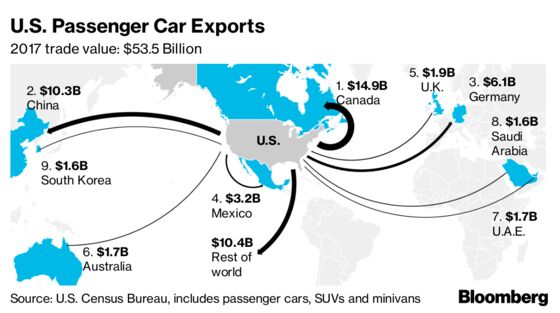 An auto trade war would deal a body blow to car makers from GM to Toyota Motor Corp., which have fine-tuned their supply chains to take advantage of countries with low duties, such as the U.S. The graphic below shows which nations lead in producing various components of American passenger cars, from bumpers to steering wheels.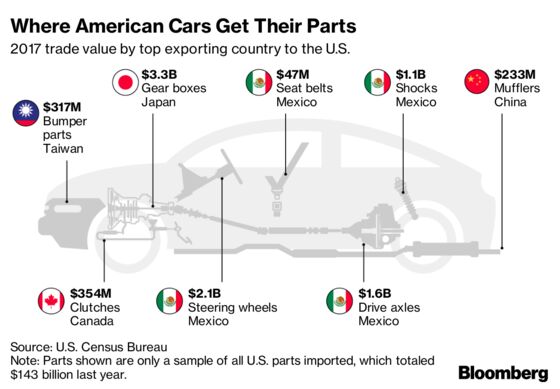 Auto groups, industry workers and foreign governments condemned the idea of raising duties on cars at a public hearing last week in Washington. Speaker after speaker urged the administration to avoid sideswiping the very industry it wants to help.
Commerce Secretary Wilbur Ross said it's too early to say if the administration will decide to impose tariffs, though he noted that the president recognizes the indispensable nature of the U.S. auto industry.