ECB Meets on Whatever-It-Takes Anniversary: Decision Day Guide
(Bloomberg) -- Six years to the day since his historic pledge to do 'whatever it takes' to keep the euro together, Mario Draghi is likely to confirm that the currency bloc is back to relatively solid economic health.
The ECB president and his colleagues will set policy on Thursday, with analysts predicting the Governing Council will reaffirm that bond purchases will end in December and interest rates could start rising after the summer of 2019. Even the growing threat of a global trade war hasn't -- yet -- been enough to shake the conviction that the region can soon be weaned off of monetary stimulus.
To follow our live coverage, check out our blog
Still, there are plenty of details that Draghi will be asked to clarify at his press conference. The guidance on interest rates has confused some ECB watchers and a plan for reinvesting the proceeds of maturing debt will eventually have to be updated.
The ECB will announce its policy decision at 1:45 p.m. in Frankfurt and Draghi will speak to reporters 45 minutes later.
He'll be speaking a day after European Commission President Jean-Claude Juncker and U.S. President Donald Trump agreed to work toward a deal to avoid a trade war. On the table are an increase in European imports of U.S. liquefied natural gas and soybeans and lower industrial tariffs on both sides. Juncker said after the meeting in Washington that the EU and the U.S. will "hold off on other tariffs" while negotiations proceed.
The ECB has warned that the biggest risk to economic growth is not necessarily the tariffs that have been announced, but the impact of the disputes on confidence.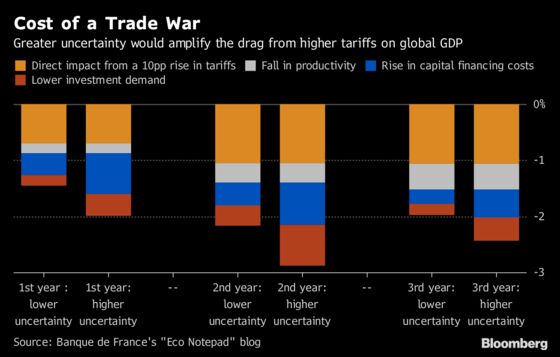 Reports this week have shown private-sector activity in the euro area slowing and business sentiment in Germany, the region's biggest economy, dipping for a second month.
Other indicators are more bullish. Lending to companies rose the most in nine years in June, and consumer confidence is near the highest level on record. And in a sign that more inflation is in the pipeline, companies from all sectors predict their selling prices will rise over the next months.
What Our Economists Say
"The latest hard and soft data suggest the euro-area economy has recovered from the slowdown at the start of the year. That should leave the European Central Bank on track to finish its asset purchases in December and begin a tightening cycle the following September."
-- David Powell and Jamie Murray, Bloomberg Economics. For the preview, click here
Investors have puzzled over the ECB's pledge in June to keep interests rates on hold "at least through the summer" of 2019. The deposit rate is currently at minus 0.4 percent and the main refinancing rate at zero.
The message has been further muddied by language changes in already-published translations of the ECB's policy statement, which seem to give slightly different interpretations of what the phrase means.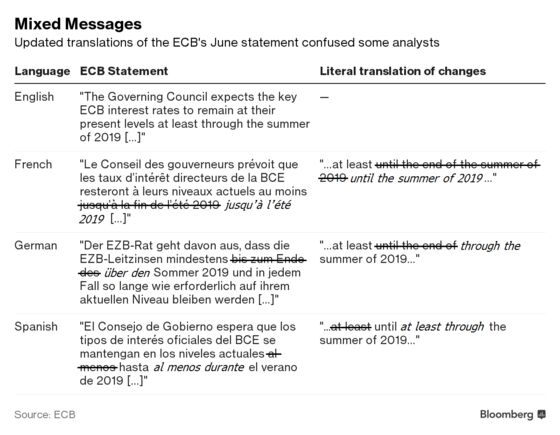 Economists surveyed by Bloomberg predict a rate hike in September or October next year, just before Draghi's term ends on Oct. 31. But a 10 basis-point increase isn't fully priced in by investors until the end of 2019, to the dissatisfaction of some policy makers.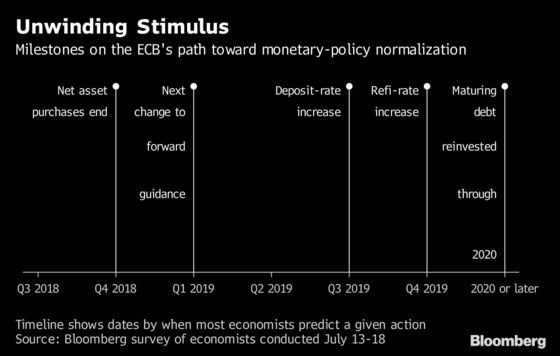 "I do expect a rate increase over time, whether that will happen already in 2019 or later, honestly, it's hard to say for me," Deutsche Bank Chief Executive Officer Christian Sewing said on Wednesday. "I think it's necessary to have that in Europe, but it's very hard to really predict the timing."
At some point in the coming months, the ECB has to decide how it will handle maturing bonds once it stops buying new assets. That reinvestment strategy will be a key focus for investors until the central bank starts raising interest rates. Draghi said in June that the decision is important and "not a marginal one at all."
Read more
Euro Bond Market Has Got Ahead of Itself on ECB Operation Twist 
The issue is whether the ECB will try to target spending to finesse its support of the economy, or if the process will remain largely mechanical, which could lead to volatility as the schedule of expiring bonds is highly uneven.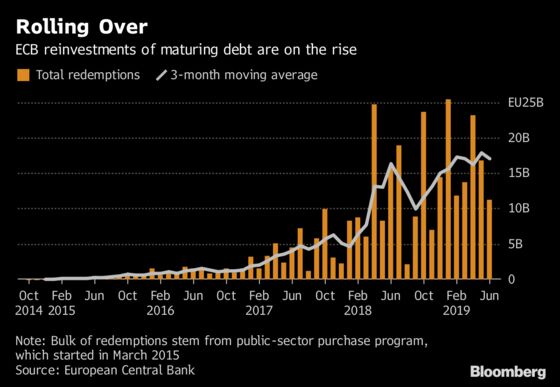 One challenge for the ECB is that the average maturity of its bond portfolio will decline over time, which tends to push up longer-term yields.
That could tempt policy makers to consider a version of the Federal Reserve's 'Operation Twist,' in which it swapped short-term bonds with longer-dated ones, or the Bank of Japan's policy of yield-curve control.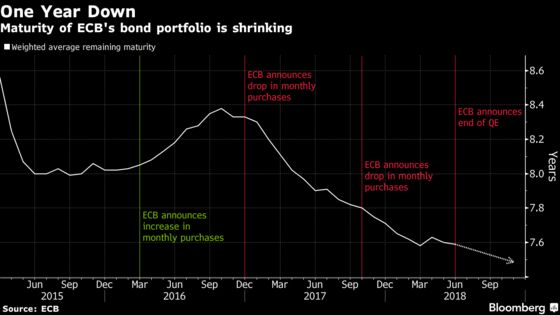 Executive Board member Benoit Coeure has already played down those ideas though, saying in a Bloomberg TV interview that "I see it as a technical discussion; I don't see it as a major aspect of our monetary policy when it comes to the maturities."