China, Vietnam Help Japan Ease Labor Crunch Now But Not Forever
(Bloomberg) -- As Japanese companies struggle with a severe labor shortage, workers from lower-wage countries in Asia have been filling the gap.
People from China, where pay is about one-third the level of Japan, still make up the biggest group of foreigners in the labor force. But they aren't nearly as dominant as they were a decade ago, as workers from even lower-wage countries pour in at a faster rate.
The number of workers from Vietnam, who see their pay jump more than 10-fold by working in Japan, has grown at least 40 percent in each of the past five years. Filipinos employed in Japan get a similar pay bump and have increased by double-digit percentages each year over the same period.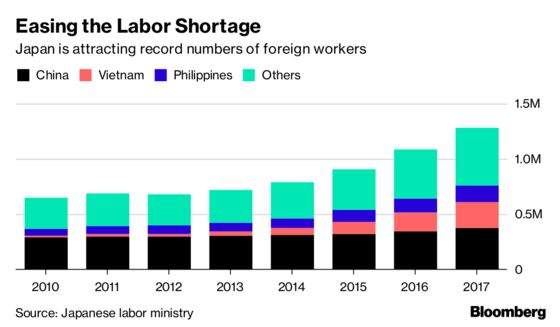 But this deep pool of workers keen to work in Japan may not always be so big. While Japanese wages have barely risen in recent years, pay has surged in China, Vietnam and to a lesser extent in the Philippines. And foreigners face challenges with the Japanese language and culture, making a pay premium key to luring them to the country.
This adds a bit more weight to calls from the government and the Bank of Japan for companies to offer higher wages to all workers.
"The days when Japan can expect people to work cheaply just because they are foreigners are nearing the end," said Makoto Kato, an analyst at Mitsubishi UFJ Research and Consulting Co.