'Trade, Not Aid': U.S. Farmers Give Trump Plan a Cool Reception
(Bloomberg) -- "We, as farmers, don't want handouts."
Neal Bredehoeft, a corn and soybean farmer in Missouri, summed up the current sentiment across the Midwest. In interview after interview, farmers delivered essentially the same response to President Donald Trump's pledge yesterday to provide $12 billion in assistance: It's nice to know you're thinking about us, Mr. President, but what we want is a quick return to free trade. It's "better to get our income from the marketplace than from the government," Bredehoeft said.
This clear-cut position from the agriculture sector reveals in part why U.S. lawmakers -- including many in Trump's own party, such as Nebraska Senator Ben Sasse and Tennessee Senator Bob Corker -- were so forceful in pushing back against the proposal on Tuesday.
The planned aid is a mix of direct payments to farmers, purchases of agricultural commodities for food-aid programs, and the stepped-up promotion of new export markets. The package has offended the sensibilities of many farmers who supported both Trump and a party that historically champions small government and free trade -- even if farmers are already the regular recipient of government aid, including an estimated $9.2 billion in payments this year alone.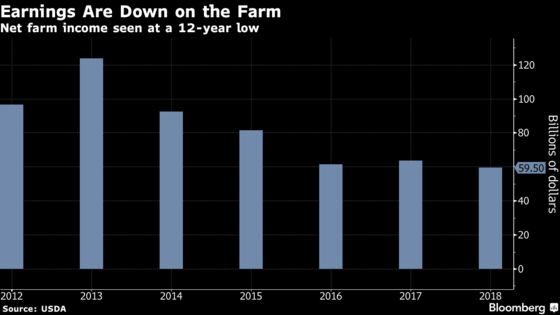 Agriculture is the third-biggest U.S. export industry. American farmers ship about one-third of their output abroad, generating an estimated $21 billion trade surplus this year, though that's now under threat after China imposed tariffs on U.S. soybeans and other farm products.
"We want access to markets," Stan Nelson, a fourth-generation corn and soybean farmer in Middletown, Iowa, said by phone as he was en route to check in on his combine at the local tractor dealer in preparation for the fall harvest. "We don't want government payments, but we do appreciate President Trump recognizing the concern out in the country."
"We would prefer trade not aid," Dave Struthers, who grows corn and soybeans and raises 6,000 hogs a year in Collins, Iowa, said in an interview. "We'd like to see things figured out on these trade issues."
The government's proposed package is like a Band-Aid that "slows bleeding -- it doesn't heal the wound," said Struthers, who voted for Trump in 2016. "It's a temporary fix. That's all any government influx of money would be. It is better than nothing."
Soybean futures briefly rose Tuesday when the aid was announced. Tractor-maker Deere & Co. jumped 3.2 percent on speculation the move would support sales. Both rose again late on Wednesday after Trump announced an accord with the European Union to avert a full-blown trade war, with measures including a pledge to ship more U.S. soybeans to the EU.
Agriculture Secretary Sonny Perdue said the government's measures are temporary, comments echoed by White House economic adviser Larry Kudlow, who told CBS on Wednesday that the assistance "won't get near $12 billion."
Farmer signups will begin later this year after the fall harvest, according to the U.S. Department of Agriculture, with more details due by the Labor Day holiday in September. Brennan Turner, chief executive officer of FarmLead, an online grain marketplace, said there are concerns among farmers that the help may not come soon enough.
The farm economy had already been reeling prior to the current trade war, following several years of depressed prices. Soybean prices have slumped further in recent weeks. The USDA projects net farm income this year to be the lowest since 2006.
Some farmers are going to have some tough conversations with their bankers, said John Heisdorffer, president of the American Soybean Association and himself a grower in Keota, Iowa.
While the assistance plan "will help out a little bit," he said. Sour prices will prompt bankers to ask: "Why should I give you money again to operate?"