Inflation Expectations Rise at Factories Along U.S. East Coast
(Bloomberg) -- The inflationary outlook at U.S. manufacturers from Maryland to South Carolina is on the move, according to a regional Federal Reserve survey.
Higher raw materials prices and a persistent shortage of experienced factory workers amid a tight labor market and growing economy are probably behind the pickup in inflation expectations, while tariffs or anticipated levies on goods may also be playing a role.
Producers in five states along or near the East Coast anticipate prices for the goods they turn out to increase at an annualized rate of 2.74 percent within the next six months, the Federal Reserve Bank of Richmond reported on Tuesday. That's the highest since August 2011. They also see prices paid for raw materials rising at a 2.84 percent annualized rate, the fastest since 2013.
The figures add to evidence that inflation is starting to perk up as the central bank's policy-setting Federal Open Market Committee debates the pace of interest-rate increases to prevent the economy from overheating. The FOMC is scheduled to meet next week, but economists and investors don't expect the next rate hike until late September.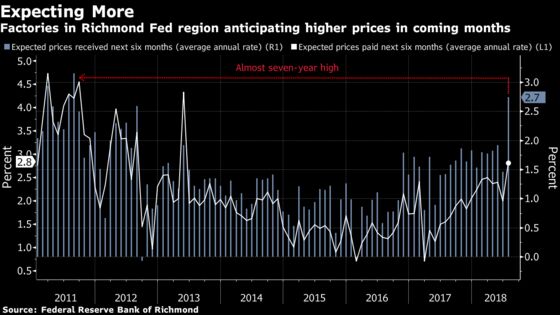 With demand remaining robust and steady, producers continue to have difficulty finding qualified workers to run machines on factory floors. A gauge of the availability of skilled prospects dropped to minus 16 in July, matching February as the lowest in records back to December 2010.
That explains why a measure of wage expectations advanced this month and matched the second-highest in more than a decade.