Heat of Trade Tensions Hits French Companies as Exports Drop
(Bloomberg) -- An escalating trade spat between the U.S. and the European Union may be starting to leave its mark in France.
Exports of manufactured goods from the country dropped in July for the first time in almost two years, IHS Markit said on Tuesday, noting the decline coincides with reports that global trade tensions are weighing on external demand. A gauge of output in the private sector fell.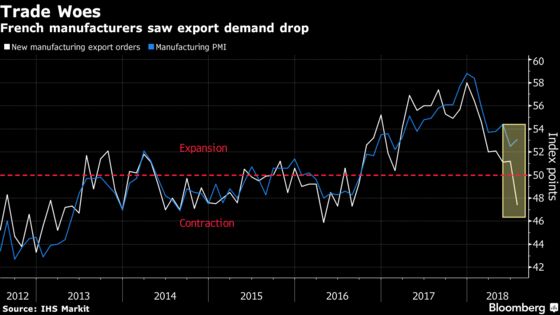 A separate measure of manufacturing sentiment also fell, reaching its lowest level in a year. The drop reflects business leaders' waning confidence in the production outlook for their own companies and the overall sector, national statistics agency Insee said.
President Donald Trump is threatening to impose import tariffs on European cars, a move that would mark a serious escalation of a brewing trade conflict and undermine growth in the euro area's second-largest economy.
French Finance Minister Bruno Le Maire on Sunday called for the U.S. administration to respect global rules, arguing that the "law of the jungle" where everyone fights on their own leads to chaos. EU Commission President Jean-Claude Juncker is due to visit Washington for talks this week.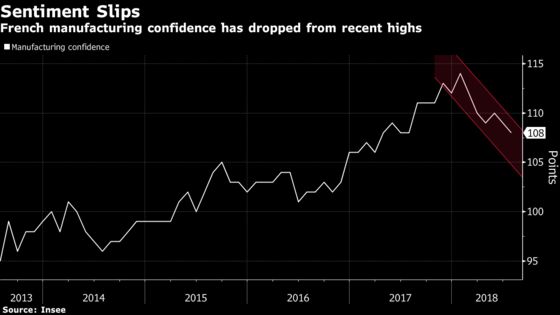 Despite trade tensions, "the French private sector continued to grow at a decent lick at the start of the third quarter," said Alex Gill, an economist at IHS Markit. "The rate of expansion, however, remains far weaker than seen around the turn of the year."
The overall Purchasing Managers' Index for manufacturing and services eased to 54.5 from 55 in June, missing economist estimates for 54.9. Growth was driven by services, with robust economic conditions and the soccer World Cup -- which France won -- bolstering orders.
Capacity pressures continued to build, especially at services providers, and companies increased hiring for a 21st straight month.
"The rate of job creation and degree of business confidence remained strong at both manufacturers and service providers, suggesting the French private sector is poised for further solid near-term growth," Gill said.