German Economy Defies Trade-War Fears as Manufacturing Rebounds
(Bloomberg) -- Germany's economy is defying trade-war fears for now, continuing a rebound driven by manufacturing strength.
A Purchasing Managers Index for factory activity jumped to 57.3 in July from 55.9 in June, propelling a composite gauge for the country's private sector to a five-month high, IHS Markit said on Tuesday. The numbers are in contrast to disappointing reports from France showing that manufacturing exports fell for the first time in almost two years and factory confidence declined.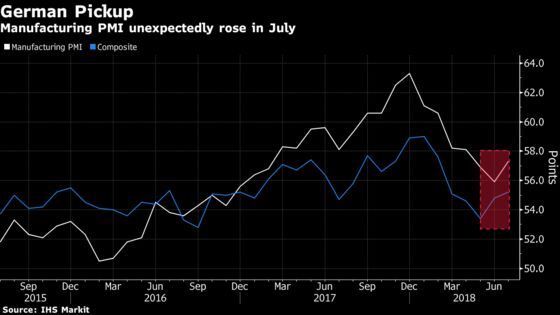 The German report signals that Europe's largest economy has finally overcome the slowdown seen at the start of the year. But the survey also suggests growth may be shifting into a lower gear compared with last year, with new orders increasing less rapidly than output and business confidence "subdued."
The Bundesbank said on Monday that the economy probably had "a little more momentum" in the second quarter than in the first three months of the year. Unemployment has kept falling to new record lows and industrial production boomed in May.
"Private-sector output growth in Germany continued to regain momentum in July," said Trevor Balchin, economics director at IHS Markit. "Data on new business were less positive than the trends for total activity and jobs, however."
Escalating trade tensions remain a risk. U.S. President Donald Trump is threatening import tariffs on European cars, a move that would significantly harm the German economy. Markit's gauge for future output slipped to its second-lowest level in 20 months.
In the manufacturing sector, a weaker inflow of new orders led to the slowest increase in backlogs in two years. At the same time, inflationary pressures continued to build as growth in both input and output prices accelerated.