Italy's Populist Spending Plans Start to Strain Coalition
(Bloomberg) -- Italy's coalition government is heading for an internal struggle over spending, with outspoken Deputy Premier Matteo Salvini ready to flout European Union budget rules while the finance minister urges caution.
"Italians voted for us to be better off, to go into retirement at the right age, to pay lower taxes compared with today's craziness," Salvini told reporters in Milan Monday. He said he'd prefer to keep within EU deficit restrictions, but "if we have to go above those limits for the good of the Italians, that won't be a problem for us."
Those comments put Salvini at odds with Finance Minister Giovanni Tria, who was preaching prudence at the Group of 20 nations meeting in Buenos Aires a day earlier. Tria said the government will implement its program "obviously staying within those budget limits needed to preserve market confidence and avoid instability." Breaking the rules could trigger higher borrowing costs, damage growth and worsen the country's debt burden, he said.
Investors banking on Tria to bring a degree of moderation to the populist government already had one scare last week, when La Repubblica newspaper said he might be pushed out in a power struggle over who should lead the state development bank. The finance ministry dismissed the story and the government has settled on a new chief executive for the lender.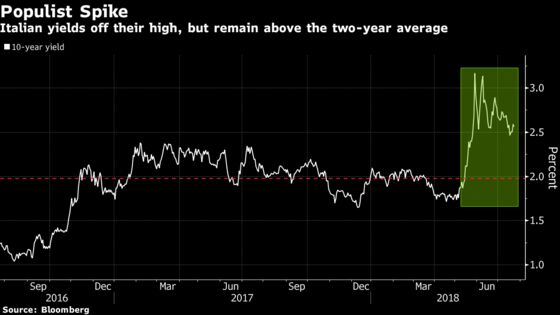 The spread between Italian and German 10-year yields widened for a fifth straight session on Tuesday and reached 227 basis points, the same level it hit during Friday trading before the concerns about Tria were soothed.
That tremor in bond markets may offer a warning of the volatility facing Italy once the budgeting process gets under way in earnest after the summer break.
One of the key points for the government is restoring the full health of Italian banks. Prosecutors have opened a probe of embattled lender Banca Carige SpA, which has been hit by management upheaval and told by the European Central Bank to develop a new capital-boosting plan.
Luigi Di Maio, the other deputy prime minister and leader of the Five Star Movement, began the week doubling down on his campaign promise to establish income support for poorer Italians. "It must be put into effect," he said.
Five Star has projected that its signature pledge will cost about 17 billion euros ($20 billion) a year to deliver, though the head of Italy's pension agency estimated the bill might be as much as 30 billion euros.
While Di Maio has promised voters he'll ramp up benefits spending, Salvini's priority is tax cuts, and he's prepared to take the battle to Brussels to ensure that both of them can get their way.
"Brussels needs to review its rules," Salvini said in a Corriere della Sera interview also published Monday. "Tax cuts? They will be in the next budget adjustment."
The new government, sworn in on June 1, sent yields to multi-year highs in May as Salvini and Di Maio negotiated just how far to push their policy objectives. Concern ranges from the administration's planned fiscal upheavals to questions over Italy's future in the euro area.
In a separate interview, Claudio Borghi, the euroskeptic head of the budget committee in Italy's lower house, said the country may be justified in skirting EU spending rules if that's what's required to get the economy going -- the European Commission forecasts Italy's expansion will be 1.3 percent this year, the slowest of any euro-zone nation.
"If the debt grows a little and the gross domestic product also grows, that's not the problem," Borghi, a top economic adviser to Salvini, told la Repubblica. "The only thing we need is expansionary policies."