These Are the States With the Healthiest Job Markets Under Trump
(Bloomberg) -- The U.S. states with the greatest job opportunities since President Donald Trump took office last year are in the South and west of the Mississippi River, with Georgia No. 1 and Colorado No. 2. Rounding out the top 10 are Idaho, Nevada, Utah, Tennessee, New Mexico, Texas, Massachusetts and Minnesota.
Georgia increased the number of employed residents by almost 11,000 per month since Trump's inauguration in January 2017 -- dropping the rolls of the unemployed by 53,000, according to government data.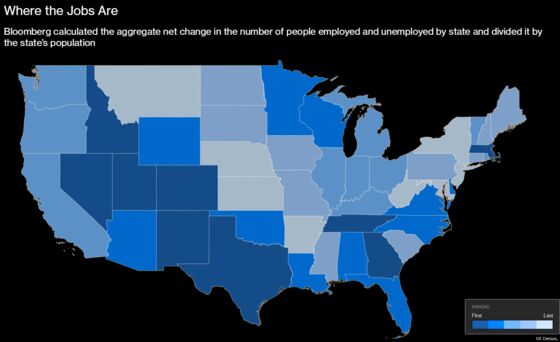 Ten states have increased employment by a least 100,000, including four states that Trump lost in the November 2016 election: California, Colorado, Massachusetts and Virginia.
In New Jersey, 32,000 fewer people are employed. Five other states have seen a drop in the employment numbers: Alaska, Connecticut, North Dakota, Pennsylvania and Wyoming.
Massachusetts and Colorado tied for No. 1 in growth in labor force participation. Colorado rose from 65.5 percent in January 2017 to 67 percent last month. Massachusetts rose to 64.5 percent from 63 percent. North Dakota and Minnesota led all state at 68.9 percent and 68.4 percent, respectively. The lowest is West Virginia where just slightly more than half the population is employed.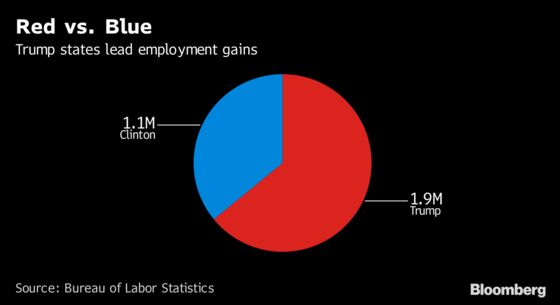 Hawaii reported the lowest unemployment rate last month at 2.1 percent. The highest was Alaska at 7.1 percent. The biggest statistically significant declines in the unemployment rate occurred in New Mexico, Pennsylvania and South Carolina, where joblessness fell by 0.2 percentage points in each state.
State and local employment data are derived independently from the national statistics, which are typically released on the first Friday of every month. The state figures are subject to larger sampling errors because they come from smaller surveys compared to the national figures, according to the Bureau of Labor Statistics.
Map Methodology: Bloomberg calculated the aggregate net change in the number of people employed and unemployed by state and divided this figure by the state's civilian non-institutional population. States were then ranked based on labor improvement relative to the state's population. Latest data available is from June 2018.
U.S. Labor Market Change Under President Trump
State Labor Force to Population Ratio Change Since January 2017