First Successive Czech Rate Hikes in Over Decade Now in Play
(Bloomberg) -- A weaker currency and robust wage growth will prompt a debate over whether to deliver the first back-to-back increases in Czech interest rates in over a decade next week, according to two policy makers who are advocating further steps to cool the economy.
Salaries are rising faster than labor productivity and may have a stronger impact on inflation than the central bank previously forecast, board member Vojtech Benda said in an interview on Monday. Deputy Governor Mojmir Hampl told the Euro magazine that rising property prices were another reason to continue lifting borrowing costs this year.
After leading monetary tightening in Europe last year, the Czech central bank is preparing more rate increases to curb inflation that's running above its 2 percent target. While policy makers originally expected stronger koruna to cool the economy in 2018, the currency has instead weakened along with its peers in emerging markets after sentiment toward riskier assets soured.
"All that means the domestic inflationary pressures are stronger compared with the previous forecast," Benda said. "I can generally see room for debate on a further rate hike as soon as at the next meeting. I personally favor tighter rather than more relaxed policy."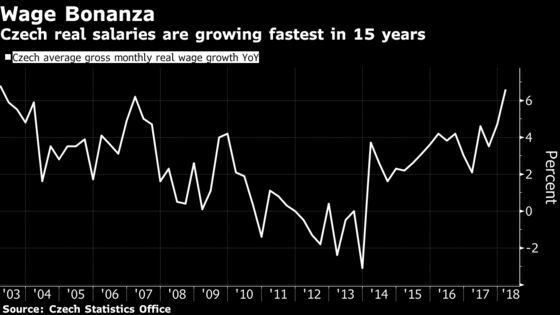 The previous rate increase on June 27, which brought the benchmark rate to 1 percent, has failed to trigger koruna appreciation after Governor Jiri Rusnok said it wasn't possible to give a more precise policy outlook because of growing uncertainties abroad. The exchange rate has averaged 25.67 per euro so far in July, 3.4 percent weaker than the central bank's projection for the third quarter.
"The weaker-than-expected koruna represents an opportunity to continue with rate hikes, which are desirable for both our monetary-policy and financial-stability goals," Benda said. "We're in a comfortable situation in which we can decide at every policy meeting, based on a real-time assessment of the exchange-rate."
The koruna has recovered this week after comments by Benda, Hampl and the central bank's chief economist, Tomas Holub. Speaking in an interview with Reuters, Holub said new projections that policy makers will review Aug. 2 will show steeper increases in borrowing costs than previously estimated. The Czech currency has gained 0.5 percent in the past two days to 25.75 against the euro, the strongest in four weeks.
Money-market investors on Tuesday also raised their bets on monetary tightening, with forward-rate agreements now signaling a probability of more than 60 percent that the central bank will raise rates next week.
Benda said a shortage of workers could intensify inflation risks without tighter monetary conditions. But he added the central bank "should proceed cautiously, so that we don't have to reduce rates if the exchange rate surprises us on the strong side."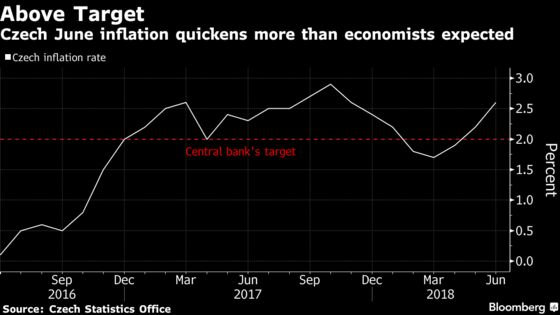 Hampl, who has been the leading voice for monetary tightening on the seven-member policy panel, said in the Euro interview that interest rates need to continue rising because wage growth and increasing property prices will further fuel inflation.
The costs of food and fuels exceeded forecasts in May, and they could eventually have second-round effects that push other consumer prices higher, according to Benda. Another potential inflationary factor is the government's plan to boost spending on public-sector salaries and pensions, and, to a lesser extent, on roads and other infrastructure, keeping the budget in deficit until at least 2021.
"The fiscal outlook for the coming quarters and years is rather pro-cyclical and pro-inflationary, while doing relatively less to promote productivity in the economy," said Benda.