China's Path to Free Capital Markets Hobbled by U.S. Tension
(Bloomberg) -- U.S. President Donald Trump's efforts to prise open China's markets are likely to be counterproductive, at least as far as capital controls are concerned.
Under a plan announced in 2016, China aimed to allow "basic capital account convertibility," or free non-speculative cross-border investment flows, by 2020. The likelihood of that happening has fallen to 10 percent, according to Xia Le, chief Asia economist at Banco Bilbao Vizcaya Argentaria SA.
While China's path to liberated capital markets has always looked rocky, especially after the central bank burned through $1 trillion of foreign reserves fighting a plunge in the yuan in 2015-2016, the specter of a currency war on top of a trade dispute is increasing the chances of direct intervention.
The trade war "brings a lot of uncertainties, and the authorities will probably become more discretionary between 'managing' and 'letting market forces decide'," said Shen Jianguang, chief Asia economist at Mizuho Securities Asia Ltd.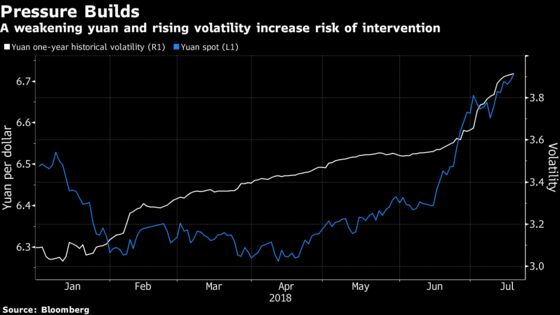 A State Council meeting on Monday unveiled easing measures to boost domestic demand, after the People's Bank of China offered a record amount of medium-term loans, driving the yuan to its weakest in more than a year against the dollar.
The yuan has tumbled more than 7 percent since the end of the first quarter and its one-year historical volatility climbed to a record 4.01 percent as trade tensions worsened and weak economic data spurred a shift toward monetary easing. The speed of the decline, especially since Trump announced tariffs on $34 billion of Chinese shipments on June 15, has led to speculation that the Chinese government is using the currency as a weapon to offset the impact of levies.
Even so, a sudden acceleration in yuan weakness could prompt heavier intervention by policy makers and set back reform efforts, BBVA's Xia said.
"The yuan is set to fall in the second half, and the central bank is likely to step up intervention if it approaches the range from 6.8 to 7, a key psychological level," said Larry Hu, a Hong Kong-based economist at Macquarie Securities Ltd. "The PBOC's bottom line is to prevent self-fulfillment in depreciation. It remains a key challenge for China to achieve free floating."