Chickens Have Paws, and U.S. Frozen Supplies of Them Just Hit a Record
(Bloomberg) -- U.S. supplies of chicken feet and paws -- yes, the flightless birds have paws -- jumped to a record for the month of June, Department of Agriculture figures showed on Monday.
Stockpiles of chicken parts classified as "paws and feet" rose to nearly 37 million pounds as of June 30, up from 30.2 million a month earlier and almost double the 19.1 million a year earlier, according to a monthly USDA release in Washington.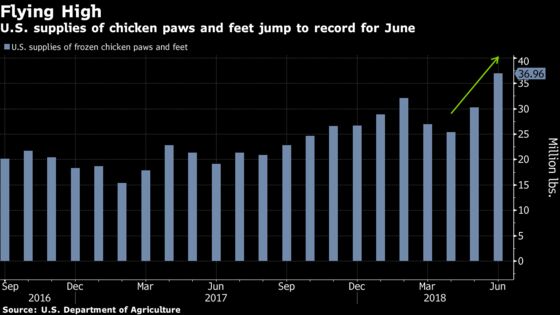 The latest paw print helped boost frozen supplies of all chicken parts to 888.6 million pounds, the largest end-of-June figure on record but still short of the all-time high of 925.8 million pounds at the end of December 2005, according to USDA data that began in 2003.
Domestic stockpiles of chicken feet and paws rose rapidly as the U.S. prepared for a trade war with China, a big market for those particular cuts of the bird. According to the USDA, the two cuts are similar, with chicken feet cut slightly higher on the leg.