Broadbent Defends QE in Final Comments Before BOE Rate Decision
(Bloomberg) -- As the Bank of England prepares to increase interest rates for just the second time in a decade, Ben Broadbent launched a fresh defense of the bond-buying program the bank used when rates got close to zero.
The BOE's deputy governor for monetary policy used a speech in London on Monday to clarify the central bank's guidance on when it intends to begin unwinding its quantitative easing program, and he also outlined its achievements. The asset-purchase program has drawn criticism from the start that it increased inequality and punished pensioners and savers.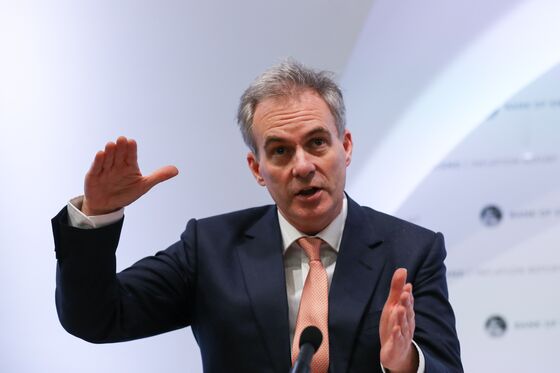 "QE has often been described as a 'new-fangled' policy, something that involves 'printing money' and has served only to engineer large rises in the prices of financial and other assets, benefiting only the better off," said Broadbent, who has been seen as a possible contender to replace BOE Governor Mark Carney next year. "Broadly speaking I don't think any of these things is true."
While he acknowledged that early rounds of purchases had a greater effect than those that followed, Broadbent said the program "provided significant support to aggregate demand, even if it wasn't enough to offset fully the extended contractionary effects of the crisis."
The BOE is looking to the experience of their peers in the U.S. as they consider the best way to exit its almost decade-old stimulus, he said. Policy makers surprised watchers at their last policy meeting in June by voting to change the guidance on when they will consider reducing the stock of debt purchased in the bank's quantitative easing program.
Having previously said they wouldn't consider selling the bonds until the key rate reached 2 percent, they cut that to 1.5 percent, although they reiterated that any reduction in the stock would be at a "gradual and predictable pace."
"We don't know exactly when" rates will reach that level, Broadbent said. "But the framework is designed to ensure that, should inflationary pressures weaken after that date, the first response would be to cut interest rates."
Broadbent's comments are the last by any Monetary Policy Committee member before they go into their pre-decision quiet period on Wednesday. Officials voted 6-3 to keep the benchmark unchanged at 0.5 percent at their June meeting and are widely expected to raise it on Aug. 2 as they seek to normalize policy after the financial crisis.
When asked after the speech if he would vote for an increase at the next meeting, Broadbent said, "I don't know and I wouldn't tell you."