Korea GDP in Focus for Global Investors Piling Into Bond Market
(Bloomberg) -- A lone dissenter at the Bank of Korea's July gathering is raising the specter of a rate hike as soon as next month, adding extra weight to this week's growth figures for international bond investors who've piled into the local market.
Global fund managers seeking refuge from trade turmoil have scooped up more than $29 billion of the nation's bonds this year, comforted by a slowing economy and central bank keeping policy tightening on hold. They've been rewarded with returns of about 1.1 percent year-to-date, versus losses of about 0.9 percent for emerging Asia government debt broadly, according to bond indexes compiled by Intercontinental Exchange.
Yet bonds prices will be under pressure if second-quarter GDP figures on Thursday beat the 2.9 percent median estimate of economists, boosting inflation expectations in the process. Korean yields spiked and bond futures slumped after Lee Il-houng's vote to raise rates at the BOK's July 12 meeting.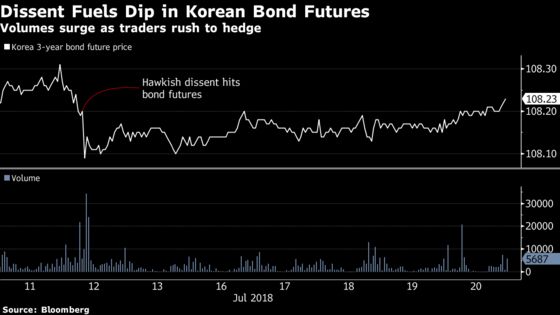 Ten of 24 economists surveyed by Bloomberg News from July 12 to July 17 expected a rate hike at the bank's remaining third-quarter meeting on Aug. 31, including those at JPMorgan Chase & Co., HSBC Holdings Plc and Deutsche Bank AG.
The central bank has left its policy rate unchanged since November's 25 basis point increase to 1.5 percent. Still, signs of hawkishness have begun to emerge in recent months.
At the bank's May meeting, some board members flagged the need to reduce the amount of policy accommodation, citing in part increased risks to financial stability amid a widening yield differential with the U.S., where the Federal Reserve continues to signal rates are on the rise. But fears over global trade tensions and slowing jobs growth have stayed the BOK's hand.
Swaps pricing suggest traders, while not convinced officials will raise borrowing costs next month, see one by year-end. The market-implied policy rate in six months stands at 1.73 percent, according to data complied by Bloomberg.
With Korean three-year yields now down to 2.08 percent -- about 24 basis points from their February high -- global investors may be vulnerable to a positive GDP surprise bringing those expectations forward.
Below are key Asian economic data and events due this week:
Monday, July 23: Singapore CPI
Tuesday, July 24: Japan Nikkei manufacturing PMI
Wednesday, July 25: Australia 2Q CPI and skilled vacancies, New Zealand trade balance, South Korea consumer confidence
Thursday, July 26: South Korea GDP, Singapore industrial production
Friday, July 27: Australia 2Q PPI, Japan Tokyo CPI, China industrial profits